Booking Automation and VacaRent Offer First in Kind Partnership
Press Release
•
updated: Apr 17, 2020
VacaRent and Booking Automation have partnered to become the first and only property management platform that offers channel resource with the full features of an online travel agency. Look out AirBNB and VRBO, you now have serious competition at a better price and more features.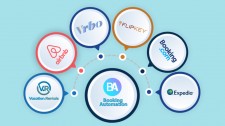 KISSIMMEE, Fla., April 17, 2020 (Newswire.com) - Booking Automation (Toronto, Canada) and VacaRent, LLC (Branson, Missouri) have joined forces to combine the features of both platforms to empower owners of short-term rental properties with a unique solution that is not found anywhere else in the world.
CEO of VacaRent, LLC Mike Kugler said "Since the first day we opened our flagship website - Vacation Rentals - owners have asked us if our platform also performed property management and it didn't. Our original intent was to simply make and market a travel site that would compete head to head with AirBNB or VRBO and nothing more. Yet, the same question persisted about property management as well as channel managers. Owners wanted an affordable and easy to use platform."
"At first, we toyed with the notion of creating this from scratch and incorporating it into our site," he continued, "but then we began to realize what an enormous undertaking this would be and decided to scrap that possibility. The time and expense were just too extreme."
A company decision was made to investigate alternative options and see if one of the existing PMS companies would be interested in working with them to create a "Super Site" which would give the owners all the tools they needed. Kugler estimates that he researched upwards of 20 companies before finally settling on Booking Automation.
"There were 2 things that really struck me about them. 1 - They were ranked Top 10 on Capterra software reviews - individual reviews had already validated their software. 2 - Their customer service; this was an area that we had to have exceptional support because we were getting into an area that was out of our expertise and would certainly require assistance in the future. Booking Automation excelled in these 2 fields better than any other company we interviewed," said Kugler.
​
They recognized early on to make the process truly unique and easy to use they would have to fully integrated bidirectional (send and receive from either platform). This delayed the original rollout by several months but the end results were well worth it according to Kugler.
"Now, our owners get the best of everything! They can store guest information - invoice - create instant bookings - set seasonal rates - minimum nights and more. The best feature I love about Booking Automation is their drag and drop room changes. Probably the easiest room modification I have ever seen on any platform." Additionally, Booking Automation handles distribution to over 50 different platforms including AirBNB - VRBO and many more.
​When asked what the costs were for this improvement Kugler smiled and said "Our customers demand value. No charge, it's included and it's free!"
Source: VacaRent, LLC
Additional Links