BitForex Lists NOBS - a Premium Airdrop Token
Press Release
-
updated: Jul 13, 2018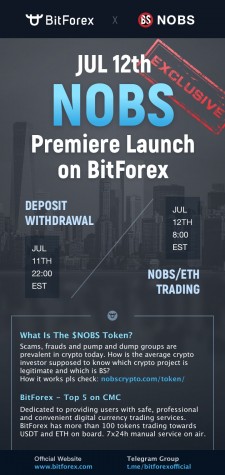 NEW YORK, July 13, 2018 (Newswire.com) - No one can question that BitForex has arrived to change the crypto-asset exchanges industry. Like it or not, BitForex is revolutionizing the way exchanges do business in 2018.
From being number 63 on CoinMarketCap to becoming a top 5 exchange in that same platform in less than 5 weeks, BitForex has arrived to stay and that for sure causes some discomfort to the competition. The company is headquartered in Singapore and it is registered in the Republic of Seychelles. It has operating teams in several countries such as Philippines, Germany and Estonia. Its users are spread around 63 different countries making it a true global company.
It has listed not only main coins such as BTC, ETH, as well as over 100 high-quality projects' tokens. On July 12, BitForex listed its first 'Airdrop Token', NOBS Token, a project headed by Mr. Chris Koerner with the participation of Mr. John McAfee.
The listing was such a success that the platform crashed for a few minutes due to the intense number of users trying to trade NOBS when the token went live. BitForex's expert tech-team handled the situation accordingly and the platform was up-running in few minutes after the short crash.
It is obvious why the project NO BS Crypto is so popular. The project itself and its community on Telegram are, to say the least, one of a kind. A lot of crypto users joined this project when Mr. John McAfee announced on his Twitter account a few months ago about the new NOBS Crypto Telegram group that was created. The community grew at a lightning speed and then the airdrops started. As the name of the project entails, it will cover the 'NO BS' ICOs through the direct participation of its community through voting and rewards through NOBS Token. The project is way more than that though. The specifics about it and the other roles its token will play can be found in their whitepaper.
It is always a challenge to list a new token. Sometimes due to market conditions, the token's market value goes below its ICO price. That is common, but neither expected nor appreciated by projects and investors so, it can be frustrating when that happens. Airdrop Tokens work the same way. The difference is that they don't have investors, a set initial price, and the market is what will determine its price over time. And it may take some time.
It did not happen differently to NOBS Token. The token's price fell 90% after it was listed on BitForex. Many users felt the token has lost its value due to the price drop. What some of them do not understand is that there is a huge difference between value and price.
NOBS is obviously a very valuable token and NO BS Crypto is an extremely serious project. The token will play several roles in its ecosystem and users will be rewarded when they take a set of actions. However, since it has been listed for less than 48 hours ago, its price is still in its initial stage, but it will not stay like that for a long time given the quality of the project.
BitForex competes to win, not just to participate in the competition. The Exchange listed NOBS Token because it truly believes in its potential. Users are encouraged to buy NOBS on BitForex from now on and 'HODL' it for some time so that the token's market value goes higher and all participants can benefit from it.
BitForex is also a 'NO BS' kind of company. 'Fuders' are not welcome here and if you are the kind of user that 'dumped' the token as soon as it was listed, we would like to thank you for doing so. After all, you're not supposed to be part of the project anyway. NOBS is a project for winners, not for whiners.
Daniel R.
​daniel@bitforex.com
Source: BitForex
---
Categories: Cryptocurrency
Tags: asset, BTC, crypto, cryptocurrency, ETH, ethereum, exchange, ICO, pair, projects, trading
---