Big Data and Predictive Analytics Symposium
Press Release
•
updated: Aug 28, 2017
Technology Training Presents Big Data and Predictive Analytics For Intelligence and Defense Symposium 2017 on the East Coast.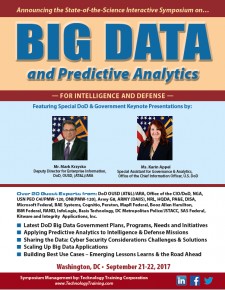 ARLINGTON, Va., August 28, 2017 (Newswire.com) - Technology Training Corporation's annual Big Data and Predictive Analytics for Intelligence and Defense Symposium returns to the East Coast Sept. 21-22, 2017 in Arlington, Virginia. This informative technical symposium dedicates a platform for Government, DoD, and Industry experts to discuss the latest tools and capabilities in big data and predictive analytics to provide the means to analyze, exploit, and share conclusions drawn from the overwhelming inputs from ever-increasing numbers of sources. Over 20 guest speakers will present and thoroughly examine the direction of big data research and development for defense, intelligence, homeland security, and law enforcement.
Questions and topics will include:
All Active U.S. Military and Active U.S. Federal Government employees are complimentary.

Macy Walp, Marketing Lead
Adding Value to Constructed Data for Intelligence
Using the Latest Tools and Technologies - Deep/Predictive Analytics, Semantics, Cloud Computation, Metadata, Biometrics, Machine Learning etc.
Security Considerations in Sharing Big Data - Challenges and Solutions
BDA Implementation: Collection, Processing, Management and Dissemination Strategies and Techniques
Applying Predictive Analytics to the Defense Mission
Presentations by a Distinguished Panel of DoD, Government, and Industry Big Data Experts
Mr. Mark Krzysko Deputy Director, for Enterprise Information, DoD, Office of the Undersecretary of Defense, Acquisition Technology and Logistics Acquisition Resources Analysis (AT&L)/ARA
Ms. Karin Appel Special Asst. for Governance & Analytics, Office of the Chief Information Officer, U.S. DoD
Ms. Lisa Shaler Deputy to Chief, Program Budget Data Management Division, Army G8, Department of the Army Headquarters (HQDA), Program Analysis and Evaluation (PA&E)
Mr. Kirk Brustman Director, Department of the U.S. Army Intelligence Information Services (DAIIS)
Mr. John Hickey Director, Cyber Development Directorate, Defense Information Systems Agency (DISA)
Mr. Charles Gassert Assistant Program Manager, Distributed Common Ground System, Navy (DCGS-N)
Mr. Todd Myers Senior Architect, National Geospatial-Intelligence Agency (NGA)
Dr. Guna Seetharaman Navy Senior Scientist (ST) for Advanced Computing Concepts, Chief Scientist for Computation, Naval Research Laboratory, DC.
Ms. Susie Adams Chief Technology Officer, Microsoft Federal
Dr. Roger Hockenberry Partner, Chief Executive Officer, Cognitio
Dr. Kirk Borne Principal Data Scientist, Booz Allen Hamilton
Mr. Audie Hittle Chief Cyber Innovation Officer, Integrity Applications, Inc.
Dr. Anthony Hoogs Senior Director of Computer Vision, Kitware
​Mr. Timothy Paydos Vice President, Government Industry Solutions, Competency Leader, IBM Government
Ms. Carolyn Montagna Criminal Research Specialist Supervisor, Investigative Support Unit, Joint Strategic & Tactical Analysis Command Center, Homeland Security Bureau, DC Metropolitan Police
Dr. Daniel Gerstein Senior Policy Researcher, the RAND Corporation
Mr. Paul J. Swinko Solutions Architect, Office of the Chief Technology Officer, BAE Systems, Intelligence & Security Sector
Mr. Tim Singletary Business Area Manager, Cyber Security Programs, Peraton
Mr. Douglas Natal Vice President & G.M., MapR Federal
Dr. Douglas Samuelson President & Chief Scientist, InfoLogix, Inc.
Mr. Tom Sabo Principal Solutions Architect, SAS Federal
Mr. Chris Biow Senior Vice President, US Public Sector, Basis Technology
Would you like to be an exhibitor at this symposium? Host a breakfast, lunch or beverage reception during the symposium?
Please contact Macy Walp, Marketing Lead at 310-320-8110 or MWalp@TTCUS.com to find out how your organization can participate.
Source: Technology Training Corporation
Related Media
Tags
Related Files
Additional Links