Beta Launch of First-Ever Global Social Networking and Recruitment Platform Dedicated to Wellness and Fitness Community
With a $4.2 trillion wellness economy that is growing annually, 80/20 Community serves the industry's networking and recruitment needs
Press Release
-
updated: Jul 29, 2019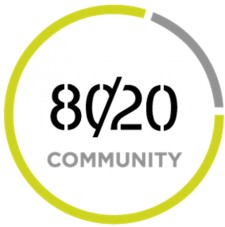 DUBAI, United Arab Emirates, July 29, 2019 (Newswire.com) - The first-ever global social networking and recruitment platform dedicated exclusively to the health, fitness and wellness profession launched in beta test mode this week, filling a gaping void for an industry that is worth $4.2 trillion in annual expenditure, one of the world's largest and fasted growing economies. 80/20 Community aims to unite fitness and wellness professionals with business owners and individuals seeking their expertise. It offers a place for the community to connect with one another to share ideas, explore collaborations and create opportunities.
The site allows companies to post jobs and search for the right candidates while offering professionals and job seekers a place to feature their skills visually and share their expertise. 80/20 Community has free and paid membership packages. During the beta launch, early subscribers will receive a free three-month premium subscription which includes added functions like blogging, direct messaging to potential employers or clients outside their network or adding multiple job listings.
The platform's name reflects what the founder believes represents the "golden ratio" of a physically healthy and balanced lifestyle: 80 percent dedicated to nutrition and 20 percent focused on physical activity.
​Hiba Beydoun is the CEO and brains behind 80/20 Community. She brings a decade of international business and marketing expertise to the table with organizations of all sizes from start-ups to a Fortune 500 company. She holds her undergraduate degree in mass communication and master of business administration and has executive training in leadership and management from elite institutions that include American University of Sharjah, London Business School and Sloan MIT, respectively.
From her personal experience with weight loss and a fitness journey across Europe, American and the Middle East, Beydoun realized the difficulty that fitness and wellness institutions and retreats around the world are facing in finding the right talent with the desired skillset. Similarly, she witnessed wellness professionals' struggles trying to find jobs in a highly competitive industry. "I wanted to give all of those in this rapidly expanding wellness economy the place they need and deserve to find the best employees or employers and collaborate to create opportunities," said Beydoun.
According to Beydoun, there are many under-represented professions in the industry that do not have a platform to turn to for job hunting and networking. 80/20 Community embraces those in traditional hands-on and management-related fitness and wellness roles as well as those in less expected occupations – such as diving, surfing and water-sport instructors; skydiving and plane jumping certified trainers; chefs; certifies massage therapists, holistic and alternative medical practitioners and fitness influencers and fitness models. 
About 80/20 Community: 80/20 Community provides the wellness industry's first global social networking and recruitment platform that is designed to quickly and directly publish job postings and help create profiles that act as an extensive and visually appealing resume. 80/20 Community L.T.D. is a privately held company headquartered and registered in Abu Dhabi Global Market in the United Arab Emirate, serving the global needs of the wellness industry. Visit www.8020community.com or @8020community on Facebook, Instagram and Twitter for more information.
Media Contact:  Hiba Beydoun, ​hiba@8020community.com
Note: Pricing: Launching now, the 80/20 Community platform is free of charge to sign up for both wellness professionals and business owners. It offers various upgrade packages that suit the needs and budget of its users. In addition to the free "Hustle" membership, the wellness professional can upgrade to ALPHA subscriptions at a $6/month with extended and priority features. Business owners and non-wellness individuals have the "LIFE" free membership, in addition to three upgrade packages to choose from starting at $12/month for the PRO upgrade. For more information and to try 80/20 Community visit www.8020community.com.
Source: 80/20 Community
Share:
---
Categories: Wellness
Tags: careers, fitness, health, health care, healthcare, jobs, networking, recruitment, social media, wellness
---