Benchmark Nutriceuticals' CBD Extraction Process Has Far-Reaching Potential for Cannabis and Culinary Industries
Press Release
•
updated: Mar 5, 2020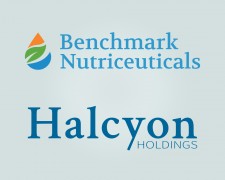 MONROE, N.C., March 5, 2020 (Newswire.com) - Benchmark Nutriceuticals - a Halcyon Holdings company - has developed a CBD extraction process that promises to shake-up not only the cannabis industry but the culinary industry as well. Its technology results in a higher quality, full-spectrum plant extract produced at a lower cost and higher volume than otherwise available on the market today, according to company executives.
Benchmark's proprietary, patent-pending process eliminates all harmful solvents or additives, while leaving cannabinoids, terpenes, flavonoids and some chlorophyll intact that have shown to have natural wellness benefits. It is currently ramping up its manufacturing capabilities with equipment capable of producing 300 gallons per day of 8-10% full-plant extract oil, or approximately 1,600 pounds of high-end industrial hemp flower.
"The effects of our advanced production processes are notable in the cannabis space, but where we see an equally significant opportunity is in foods," explained Joseph Hickey, chairman and co-founder. "In fact, we have produced deliciously flavored and highly concentrated butters and oils by infusing things like industrial hemp flower, turmeric, ginger root, eucalyptus, guajillo peppers and rosemary, as well as hemp seed and MCT."
Benchmark is able to build five to 10 processing facilities for the same cost as some of its competitors spend on one facility at an output rate 100 times theirs, according to Isaac Montanya – CEO and co-founder. It is currently identifying sites for those manufacturing facilities in targeted markets around the country. That approach gives local farmers access to an on-site lab for testing, as well as private label and retail distribution services.
"Our sites give farmers control of their own cannabis crop from seed to shelf. That means they have the peace of mind that goes with knowing their crop will be handled with the utmost care throughout processing and distribution prep to maintain the plant's quality and efficacy," added Natalia Parillo, COO and co-founder. "Our primary focus is to establish the highest standards for product quality, consistency and efficacy in the cannabis industry."
In addition to Hickey, Montanya, and Parillo, company co-founders also include Bobby Lafferty, CTO – all of whom have deep expertise in the cannabis, culinary and tech fields.
Halcyon Holdings - the parent company of Benchmark - is comprised of world-class business leaders in product formulation, healthcare, agriculture, finance, sports and hospitality, who use their combined talents to create the most transparent companies in the cannabis space. For more information about Benchmark Nutriceuticals or Halcyon, go to halcyon420.com.
MEDIA CONTACT: Winston Zeberlein at info@Halcyon420.com​ or 877-442-5296 Ext. 704
Source: Halcyon Holdings