Author Takes Readers on the Ride of Their Lives in Science Fiction Thriller 'Zeta 2 Reticuli'
Press Release
-
updated: Dec 2, 2019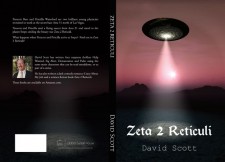 HUNTSVILLE, Ala., December 2, 2019 (Newswire.com) - Author David Scott, best known for his suspense thrillers, has turned his sights to science fiction with the release last month of Zeta 2 Reticuli. Published by AuthorHouse, the story centers around two young and gifted physicists assigned to work at Area 51, a top-secret U.S. Air Force base in Nevada. And though the base does indeed exist, the story is otherwise unworldly.
The book's protagonists, Prescott Barr and Prescilla Waterford, take readers on the ride of their lives as the main characters steal a flying saucer and travel to the planet Scripo, circling the binary star Zeta 2 Reticuli. What happens to the pair upon arrival is likely to fast boost Scott's reputation as one to watch in the science fiction realm.
"Area 51 has grown into a hugely popular tourist destination for those who believe in the possibilities of extraterrestrial activity. The history and the theories surrounding this location are the stuff that great stories are born of," said Scott. "I did a lot of research on the site and read all of the personal accounts from visitors and Zeta 2 Reticuli grew in my imagination from all I learned."
Area 51 is part of an active military base that boasts some of the heaviest security anywhere in the world. The site has long been steeped in lore associated with UFO sightings and alien spacecraft. Conspiracy theorists say that the remains of crashed UFO spacecraft are stored at Area 51 where government scientists reverse-engineer the aliens' highly advanced technology. There have been a number of UFO sightings reported in the area as well.
And if statistics about Americans and their fascination with not only Area 51 but all things extraterrestrial are an indicator, this book is destined to draw an enthusiastic audience. A recent study, in fact, showed that nearly half of Americans believe in aliens and almost as many believe aliens are visiting Earth, according to a new survey.
Scott is also the author of four suspense thrillers: Help Wanted, Sig Alert, Demarcation and Pulse, featuring the crime-solving adventures of Darcy Garcia and Peter Dale. He also wrote Crazy About My Job, a modern-day, against-all-odds love story.
Zeta 2 Reticuli by David Scott is published by AuthorHouse and available in paperback ($10.99), hardcover ($23.99) or e-book ($1.99) at Booktopia or Barnes & Noble.
For media inquiries, contact Michelle Williams: authorsupport@globalsummithouse.com. 
Source: AuthorHouse
Share:
---
Categories: Books
Tags: area 51, AuthorHouse, Barnes and Noble, books, Booktopia, David Scott, new books, new releases, science fiction, thriller, UFO, zeta 2 reticuli
---