Attorney Natalie Khawam is Panel Moderator at the Upcoming Whistleblower Summit for Civil and Human Rights
Press Release
•
updated: Jul 26, 2018
Natalie Khawam will be moderating the panel titled 'Blowing the Whistle at the Department of Veteran's Affairs - Another Perspective' on Aug. 1, 2018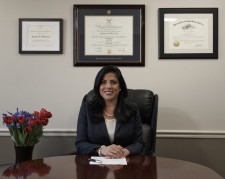 TAMPA, Fla., July 26, 2018 (Newswire.com) - The Whistleblower Law Firm, P.A., is pleased to announce that attorney Natalie Khawam will be moderating a panel at the annual Whistleblower Summit for Civil and Human Rights. The panel, Blowing the Whistle at the Department of Veteran's Affairs - Another Perspective, will be held on Aug. 1, 2018, at the Stewart R. Mott House located at 122 Maryland Avenue NE, Washington, D.C. 20002. Ms. Khawam will be moderating in her representative capacity as a board member of Whistleblowers of America, a nonprofit organization. Sabrina Mentor, J.D., and Daniel Maharaj, Esq., from Whistleblower Law Firm will be joining Ms. Khawam at the summit this year.
The panel will be a grassroots discussion about the implementation and aftermath of the Accountability and Whistleblower Protection Act of 2017. The panel seeks to provide first-hand accounts and narratives that highlight the current climate at the VA for whistleblowers. The invited panelists will include three VA whistleblowers and an investigative reporter.
The Whistleblower Summit for Civil and Human Rights will take place from July 30, 2018, to Aug. 1, 2018, at various locations on Capitol Hill. The summit will highlight the contributions of whistleblowers and the impact they have had on curbing fraud and exposing public corruption. The theme for this year's conference is Whistleblowing Works!
Natalie Khawam is looking forward to attending the summit and moderating the panel. "The annual Whistleblower Summit for Civil and Human Rights is an event that highlights the importance of whistleblowing and commends those individuals who have bravely come forward to speak out against fraud and corruption. I am looking forward to moderating this panel," she said.
About Natalie Khawam and the Whistleblower Law Firm
Attorney Natalie Khawam is a graduate of Georgetown University Law Center and earned an MBA degree and an M.S. degree in healthcare prior to her achieving her law degree. Ms. Khawam has significant experience in whistleblower and healthcare law, including having worked in the Office of the General Counsel and at the U.S. Department of Health & Human Services Centers for Medicare and Medicaid Services (CMS) division.
The Whistleblower Law Firm, P.A., is located in downtown Tampa, Florida, in the BB&T building. For more information about the firm, please call (813) WHISTLE.
Read more news from Whistleblower Law Firm, P.A., here.
Contact:
813.944.7853 or Info@813whistle.com
Source: The Whistleblower Law Firm