America's Warrior Partnership Affiliates Responsible for Economic Impact of More Than $270 Million Within Local Communities
Nonprofit renews affiliate agreements with Tierney Center for Veteran Services (California), 90Works (Florida) and Veteran's One-stop Center of WNY (New York)
Press Release
-
updated: Aug 29, 2019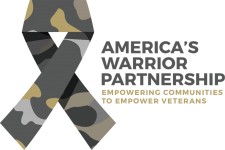 WASHINGTON, August 29, 2019 (Newswire.com) - America's Warrior Partnership announced today that the local military veteran-serving organizations participating in its Community Integration service model are responsible for an annual economic impact of more than $270 million within the regions they serve. A proven approach that provides communities with the means to implement a customized service program tailored to local veterans, the Community Integration model has engaged more than 50,000 veterans, families and caregivers since launching in 2014.
To further empower communities to proactively and holistically serve veterans, America's Warrior Partnership has renewed affiliate agreements with three organizations currently participating in Community Integration: the Goodwill of Orange County's Tierney Center for Veterans Services (based in Orange County, California), 90Works (based in Pensacola, Florida) and the Veteran's One-stop Center of WNY (based in Buffalo, New York).
"The idea behind Community Integration is that local organizations are in the best position to build long-term relationships with veterans and support them at every stage of their post-military lives," said Jim Lorraine, president and CEO of America's Warrior Partnership. "The outstanding work of our affiliates over the last five years is proof that this approach works. We look forward to continuing our collaboration and bridging the gap between community programs and national resources."
Highlights of the impact that the three renewing affiliates have had within their communities through August 2019 include:
The Tierney Center for Veteran Services connecting with 10,032 warriors in the Orange County area and enrolling 84 percent of eligible veterans into Department of Veterans Affairs (VA) Education Benefits.
90 Works connecting with 8,288 warriors throughout the Florida Panhandle and helping 476 veterans access their VA Education Benefits, with 99 percent of recipients on track to graduate.
The Veteran's One-stop Center for WNY engaging 9,940 warriors in the Buffalo area and enrolling 91 percent of eligible veterans into VA Health Care.
In addition to these three organizations, America's Warrior Partnership's affiliates include The Upstate Warrior Solution (based in Greenville, South Carolina), The Warrior Alliance (based in Atlanta, Georgia) and a new Community Integration startup program in rural Apache County, Arizona, supporting the veterans within the Navajo Nation. America's Warrior Partnership calculates the economic impact of the services provided by its affiliates through a variety of metrics, including the number of veterans who are newly enrolled in school, employed in a new job, enrolled in VA healthcare or VA benefits, and housed. 
Local organizations that participate in Community Integration receive a wide range of support from America's Warrior Partnership. This network of support includes funding, the latest research on veteran affairs, training on best practices, connections with national partners and access to the WarriorServe® technology platform, which helps veteran-serving organizations streamline data collection and coordinate services between partner organizations.
America's Warrior Partnership will present new updates coming to WarriorServe® in 2019 and educate veteran-serving professionals on the best practices employed by its affiliates during its sixth annual Warrior Community Integration Symposium, which will occur from September 4-6 in Atlanta. For more information on Community Integration, visit www.AmericasWarriorPartnership.org.
About America's Warrior Partnership
America's Warrior Partnership is committed to empowering communities to empower veterans. We fill the gaps that exist between current veteran service organizations by helping nonprofits connect with the veterans, military members and families in need: bolstering their efficacy, improving their results and empowering their initiatives. America's Warrior Partnership is a force multiplier for warrior community integration that enhances communities where great Americans choose to live and contribute. For more information on the organization and how to get involved, visit www.AmericasWarriorPartnership.org.
###
Source: America's Warrior Partnership
Share:
---
Categories: Non Profit
Tags: 90Works, affiliate, community, community integration, economic impact, holistic, service, service program, The Warrior Alliance, Tierney Center for Veteran Service, veteran, Veteran's One-stop Center for WNY
---
Related Files
Additional Links