American Artist, Mara Sfara Explores Painting, Sculpting and Multi-Sensory Presentations
Press Release
•
Jul 13, 2022
Portrait of an Artist Communicating with Hearts and Minds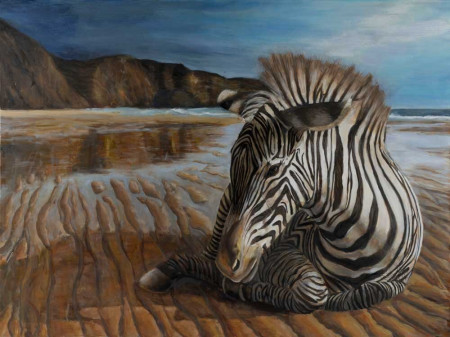 FARMINGTON, Conn., July 13, 2022 (Newswire.com) - Mara Sfara is a multifaceted American artist. She was initially influenced as a child in Omaha, Nebraska, by an encounter with a sculpture by Edgar Degas. Mara intuitively grasped confidence, energy, and dedication projected by the Degas sculpture, Little Dancer of Fourteen Years. It set her on a lifetime journey as an artist to create and communicate with the hearts and minds of others through artistic creations.
Mara is the consummate student of art. Her pursuit of artistic interpretation through painting, sculpting, and innovative multi-media art led her to study and earn multiple degrees. She has attended University of Rochester, University of Pennsylvania, Columbia University, and New York University. Her longest period of study was under the renowned American Portrait Artist Burton Silverman for 10 years. Personally, she has delved into the exploration of the work of Jackson Pollock. A pursuit that is again resurfacing as she investigates neuroaesthetics, a recently highlighted subdivision of empirical aesthetics.
Ms. Sfara explains this study succinctly, "I want to peel back the layers and search for an understanding of the insight that art gives to the individual viewer. Does neuroaesthetics open new doors of perception for the artist and viewer? Can art delve deep into a person's repressed emotions to encourage the viewer's self-realization and to reduce conflict? I am becoming more cognizant of these issues as I apply my skills in painting, sculpture, kinetic, and multi-sensory artwork in relation to the field of neuroaesthetics. "
The Work of Mara Sfara
Multi-Sensory Art: As a pioneer in Multi-Sensory Artwork, Ms. Sfara is incorporating all her skills into this new discipline combining painting and sculpting three-dimensional scenes. An example of the innovative Multi-Sensory art by Mara Sfara is currently on exhibit at The George Walter Smith Museum located at the Springfield Museums, Springfield, Massachusetts.
The Paintings: Landscapes, Animal Kingdom, Sea Life, and Portraits are all a part of the extensive paintings by Mara Sfara. Ms. Sfara works predominately with oil paints. Her paintings range in size and include works on canvas, linen, and board. Her works span the centuries of artistic interpretation to include representational, realism, impressionism, vivid color, and black and white.
The subject matter of the paintings of Mara Sfara are reflective of the diversity of life and the world. Her interpretations include stark realism, fantasy, and whimsical views, all with an interwoven ecosystem. Mara sees her paintings depicting landscapes, animal, and sea life as an opportunity to present the importance of the beauty of the biodiversity of life.
The Sculptures: Mara maintains her depth of perception when working with sculptures; they are whimsical, realistic, and engaging. Her sculptures include lucite and bronze, with subjects that span a reinterpretation of mythology to the playfulness of animals and the extravagance of flowers. No matter the subject or medium, the sculptures of Mara Sfara project life, energy, and motion.
Viewing the Work of Mara Sfara
The works of Mara Sfara have been displayed in both solo and group exhibitions around the world. The art of Ms. Sfara is part of the permanent collections at The Mattatuck Museum in Waterbury, Connecticut; Cradle of Aviation Museum in Garden City, New York; and the QCC (CUNY) Art Gallery/Museum, Bayside, New York, among others. Mara Sfara currently maintains an online gallery where she may be contacted, and works may be purchased.
Source: Mara Sfara