Almost 1 in 5 Children Wet the Bed - HealthyStart™ Can Fix That Overnight
Dentists learn about Sleep Disordered Breathing in Atlanta, Aug 5th and 6th. When a child wears the FDA approved HealthyStart™ appliance overnight it opens the airway and increases the oxygen to the body. The overall impact on the chemistry of the body halts bed-wetting when it is worn all night. Bring your child for a free evaluation Aug. 6th call 1-844-Kid-Healthy.
Press Release
-
Aug 2, 2016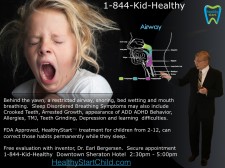 Atlanta, GA, August 2, 2016 (Newswire.com) - ​​Scheduled in Atlanta, GA on August 5 - 6, Ortho-Tain's™️ HealthyStart™️ system is being taught to Dentists, Orthodontist, ENT's and Pediatricians in the CE Lecture Series focused on Sleep Disordered Breathing and it's many resolvable symptoms to include bed-wetting while also producing Straight Teeth- No Braces.  Yes, there is a link between all these conditions!
Bed-wetting is tied to Sleep Disordered Breathing and just one of dozens of symptoms addressed very successfully with the HealthyStart™ treatment system.
Many children have a very personal challenge saddled with overwhelming shame, confusion, and frustration.  Over 18%, roughly 1 in 5 children are bed-wetters.  Most parents probably would not know this because of course it is the family privately involved, that suffers in silence. Often times pediatricians and family doctors can be unaware that there is and has been, a safe solution that is passive and has additional benefits for the overall health of your child. 
The HealthyStart™️ treatment solution was developed in an advanced, passive, drug-free and pain-free orthodontic appliance that when worn at night sets up the right breathing condition to halt the bed-wetting event.  It is comforting for both the child and their parents to learn that it is not a matter of control and they should never feel shame or embarrassment. There is a solution and it has been available now for about 50 years.
"Bring your child to learn more about the other conditions it also addresses for a life of better health," said Dr. Earl O. Bergersen, DDS, MSD, ABO.
The free evaluations are scheduled on LIVE PATIENT DAY: 
Register for event: 1-844-Kid-Healthy   -or email-  info@thehealthystart.com
ATLANTA, GEORGIA:
When:    Saturday - August 6, 2016
Time:     2:30pm - 5:00pm ET
Where:  Sheraton, Atlanta Hotel
               165 Courtland Street NE
               Atlanta, GA 30303
               Tel: (866) 716-8134
Call now to register a time for your evaluation on Saturday, August 6th in Atlanta, GA. There is no cost to you for Healthystart™ doctors to evaluate your child and there are local doctors that will be there and available to work with your family.   
The HealthyStart™️ addresses bed-wetting, crooked and crowded teeth, snoring, mouth breathing, behavior that mimics ADD/ADHD, arrested growth and development, chronic allergies, swollen adenoids and tonsils, emotional impact of sleep deprivation and depression, aggressive behavior, difficulty in school and nightmares.
This treatment permanently corrects the breathing habits that lead to the bed-wetting but also to other very serious conditions that may not seem as pressing as the bed-wetting, but that are also very important in terms of overall health for the remainder of your child's life. These patterns can become permanent and lead to serious lifelong health consequences.
"In a roundabout way, bed-wetting sounds an alarm to more trouble ahead as Sleep Disordered Breathing, SDB, is taking root and running the show while your child is sleeping. Don't wait, wake up to this pattern while you can still fix it," said Dr. Bergersen.
Parents are welcome to help their child take back their life and alter these oral breathing habits and patterns with the use of the HealthyStart™️ appliances worn at night, all while the children are sleeping better.
Dr. Earl O. Bergersen, DDS, MSD, ABO  "We like to start the children as young as possible, from the age of a toddler to when they are still in their pre-adolescent growth phase for a permanent result that corrects these many health risks that could extend through the remainder of the child's life."   
There are roughly 27 symptoms that line up with SDB and bed-wetting is just one of them.  Albeit a huge challenge in self-esteem, to now understand why it is happening and fixing it takes the sense of guilt and responsibility off the child and puts it squarely at the source or root cause.  It is an identifiable breathing disorder that impacts the overall system and when it is corrected, the body adjusts to halt the bed-wetting and other symptoms.
A restricted airway and improper mouth breathing instead of nasal breathing, leads to a lack of oxygen and REM State sleep that affects the overall chemistry of the body when the child is sleeping. It is a domino, cause and effect event that produces bed-wetting.  'No shame no blame.'
The HealthyStart™️ treatment will allow the child to breathe properly as it retrains the position of the tongue to the top of the mouth, promotes nasal breathing and adjusts and aligns the jaw to keep it from dropping back against the airway. 
At HealthyStart™️ over 3 million children around the world have been successfully treated with the FDA-approved, safe, drug-free, pain-free and possibly more permanent solution that addresses the many related consequences of SDB from Bed-wetting to Straight Teeth-No Braces! 
Call 1-844-Kid-Healthy.  Medical and dental professionals can still register for CE classes Friday and Saturday.
Parents, please call to schedule your age two to preteen children, to be seen by HealthyStart™️world renowned inventor, Orthodontist, Dr. Earl Bergersen.   Saturday Aug. 6th from 2:30pm to 5:00pm ET at the downtown Sheraton.  Learn more about Sleep Disordered Breathing and how it is impacting your children's habits and health for life.  
View The HealthyStart™️ Lecture, Orlando FL: https://youtu.be/BaeYZ112tdk
Contact Information:  
Leslie Stevens
CEO
847-921-2982
Kathie Turner 
Media Relations
832-880-3165
Source: HealthyStartChild.com
---
Categories: Children's Issues, Parenting, Dentistry
Tags: ATL, Atlanta, bed-wetting, dental, mouth breathing, orange county, parenting
---