Childrens' Dental Health Month: "Face It - Children are Growing-into-Problems and not Out-of-Them"
It is a Growth and Development consequence to Sleep Disorder Breathing that can even change the appearance of our children.
Press Release
-
updated: Feb 10, 2017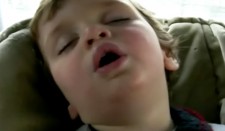 Richmond, VA, February 10, 2017 (Newswire.com) - This IS a serious trend where oral habits like mouth breathing are accompanying 9 out of 10 children for life and leading to permanent health issues.  These habits can and do produce arrested or altered growth, crooked teeth, snoring, bedwetting, ADD ADHD type behavior and may even affect the profile of their face.
But doctors like Dr. Anthony Marino, DDS, MS, of Magic Braces in Vackaville CA. say, "that in 30 years of treating with the HealthyStart™ advanced removable orthodontic and orthopedic appliances, we are taking children away from the problems they are growing into." 
This safe, non-pharmaceutical approach with a permanent and comprehensive solution in an FDA Approved treatment has been used in over 3 million cases around the world.
CEO Leslie Stevens states, "It is an EARLY Childhood Treatment, avoiding years of damage that could be only marginally corrected later in life.  We like to start even in the toddler years and before they reach puberty, to give children every advantage and help them reach their greatest potential."
The science and research connecting an airway centric, nasal breathing habit to the sleep connection, has moved more MD's to work with the pediatric and general dentists or orthodontists who screen for Obstructive Sleep Apnea.  Providing this all natural approach and well researched treatment is now becoming the Standard of Care for the children with outward symptoms of SDB.  The HealthyStart™ protocol is now included in dental schools internationally and into large medical groups and hospitals by adding the treatment to the curriculum and clinical programs.
For parents, it may start in conversation with their pediatrician, discussing concerns with childhood bed-wetting, physical appearances, aggressive behavior, snoring, night terrors, allergies, arrested growth or the tooth decay, inflamed tonsils and adenoids that come with mouth breathing.  The crooked, crowded teeth and grinding may seem like a closer dental fit- but as it turns out – they are all tied together.  It is a Growth and Development problem.
As CFO Jessica Fields of Complete Health Dentistry, Lebanon Ohio puts it, "We have a serious Medical Problem with a Dental Solution."
The key is, don't wait to find a provider.  TheHealthyStart.com  844-Kid-Healthy
Parents in Richmond Virginia are invited to bring their 2 to 12 yr. old children for a free screening tomorrow, Feb. 11th. 2pm - 4:30pm. They will be seen by a certified HealthyStart™ doctor to evaluate their fit for this treatment.  Call 844-Kid-Healthy to reserve an appointment for your child!
FEBRUARY 10rd & 11th:
TheHealthyStart.com (CE Credits)
The Westin Richmond
6631 West Broad Street
Richmond, Virginia 23230
Seminar - Lecture 
Friday 2-10 -17  
From 8:30am to 4:30pm
Lecture and Patient Clinical
Saturday 2-11-17
From 8:30am to 2:00pm (Lecture)
PATIENT Clinical from 2:00pm until 4:30pm (ages 2- 12yrs)
Call 844-Kid-Healthy to bring your child in Saturday for a Free Screening and Evaluation
VIDEOS:
A Parents Overview of Sleep Disordered Breathing and the HealthyStart™ Treatment. (Learning to spot the symptoms/traits of SDB in children)
https://youtu.be/Bk4gYOUVS8w
Dr. Brian Kraft, Dr. Jamin Houser, Dr. Dana Boyd, Dr. Craig Larson 
https://youtu.be/cj0HlmIlNJU
Intro video 
https://youtu.be/v4PUJtXy_UY
TheHealthyStart.com (main site)
HealthyStartChild.com (learning center)
1-844-Kid-HealthyHealthyStart™ Ortho-Tain™ (Parent company)
50 years- (anniversary at be observed the end of the year.)
ISO 13485
3 million + children treated globally
37 countries
Developed by Dr. Earl Bergersen, DDS, MSD, ABO
514 current US and International patents
(Most prolific patent developer since Thomas Edison)
FDA approved
Class II Medical Device 
Health Canada Certified
NO BPAs, No Silicone, No Latex, 
Anti-microbial
SYMPTOMS (partial list of what happens when the airway is compromised!)
Open Mouth Breathing
Snoring
Grinding- Bruxing
Bed-wetting
ADD/ADHD behaviors
Chronic Allergies
Nightmares
Restless Sleep
Academic challenges- science, math, spelling
Aggression/depression
Dark Circles
For more information or to arrange interviews:
CONTACT:
Kathie Turner
Marketing and Communications
832-880-3165
Kathie@KathieTurner.com
Also* At the lecture is CEO Leslie Stevens - GREAT interview!
CEO HealthyStart™
847-921-2982
Leslie.stevens@gmail.com
Source: HealthyStart™️
Share:
---
Categories: Children's Issues, Local News, Dentistry, Family Medicine
Tags: dental, HealthyStart™️, Richmond, sleep disorder, Virginia
---