A Focus on the Face: Mouth Breathing Can Change the Way Your Child Looks
The HealthyStart™ reports the connection between the appearance of your child and their breathing habits impacts not only their Growth and Development but it also sets up their Health for Life.
Press Release
-
updated: Feb 22, 2017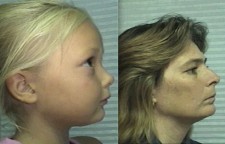 Costa Mesa, CA, February 22, 2017 (Newswire.com) - Oral habits, like mouth breathing are impacting 9 out of 10 children with arrested or altered growth, crooked teeth, snoring, bedwetting, ADD ADHD type behavior and may even affect the profile of their face. Once a child reaches puberty, the skeletal development is all but complete and the window for change closes.
Dentists and Orthodontists will be trained this week in Costa Mesa CA. with an FDA Approved, intervening treatment that can comprehensively correct the conditions that develop through proper oral habits without pharmaceuticals, pain or relapse and used around the world for 50 years.
Dr. Anthony Marino DDS, MS,inc. Magic Braces Vacaville CA and Fairfield CA. for over 30 years, has treated young patients with the HealthyStart™ removable appliances that guide the tongue into its intended posture and purpose to convert mouth breathing to healthier nasal breathing. Case in point; and just one of millions. One part genetics, one over-riding part; Mouth Breathing.
Pictures best tell this mother/daughter story, and the desire that every parent wants better for their child? Mom had grown up with a profile and dentition (the way her teeth came in) that led her in adulthood, to a painful jaw re-alignment surgery and years of braces. Happy with her results, she asked Dr. Marino, if there was any way her daughter could avoid the emotional and physical pain of what she felt was her daughters' destined development.
( Dr. Marino case  https://youtu.be/bzdJn0tkHDE )
Case results, starting from a young age to now 22!  There was a dramatic change in just the first few months because she was so young when the treatment started. She went from mouth breathing to nasal breathing as the appliance soundly held her jaws in alignment while she slept. The tongue rested at the top of the mouth and helped to expand the archway needed for the adult teeth that would come just a few years later.   Her profile developed beautifully and the blessing of Dr. Marino's HealthyStart™️ treatment continues.   Mom now generously shares her story with other parents for their sons and daughters to live to their potential.
Dr. Marino, DDS, MS, inc. "Children Are Growing-Into-Problems and not Out-of-Them. But with the HealthyStart™ advanced removable orthodontic and orthopedic appliances, we are taking children away from the problems they are growing into."
HealthyStart™ has been used in over 3 million cases around the world. CEO Leslie Stevens, "It is an EARLY Childhood Treatment, avoiding years of damage that could be only marginally corrected later in life. We like to start even in the toddler years and before they reach puberty, to give children every advantage and help them reach their greatest potential."
The science and research connecting an airway centric, nasal breathing habit to the sleep connection, has moved more MD's to work with the pediatric and general dentists or orthodontists who screen for Obstructive Sleep Apnea. Providing this all natural approach and well-researched treatment is now becoming the Standard of Care for the children with outward symptoms of SDB. The HealthyStart™ protocol has now entered dental schools internationally and into large medical groups and hospitals by adding the treatment to the curriculum and clinical programs.
For parents, it may start in conversation with their pediatrician, discussing concerns with childhood bed-wetting, physical appearances, aggressive behavior, snoring, night terrors, allergies, arrested growth or the tooth decay, inflamed tonsils and adenoids that come with mouth breathing. The crooked, crowded teeth and grinding may seem like a closer dental fit- but as it turns out - they are all tied together. It is a Growth and Development problem with a Dental Solution." The key is, don't wait to find a provider. TheHealthyStart.com 844-Kid-Healthy
Parents in the Costa Mesa area are invited to bring their 2 to 12 yr. old children for a free screening, Feb. 27thth. 2-4:30pm. They will be seen by a certified a HealthyStart™ doctor to evaluate their fit for this treatment. Call 844-Kid-Healthy to reserve an appointment for your child!
FEBRUARY 26th & 27th EVENTS
TheHealthyStart™ (CE Credits)
Ayres Hotel & Suites
325 Bristol Street
Costa Mesa, CA 92626
Seminar - Lecture
Sunday Feb. 26th. 2017
From 9a.m. to 5p.m.
Lecture and Patient Clinical
Monday Feb. 27th. 2017
From 8:30am to 2:00pm (Lecture)
PATIENT Clinical (open to the public)
2:00pm until 4:30pm (ages 2- 12yrs)
Call 844-Kid-Healthy to reserve a Free Screening and Evaluation
VIDEOS:
A Parents Overview of Sleep Disordered Breathing and the HealthyStart™ Treatment. (Learning to spot the symptoms/traits of SDB in children)
Dr. Brian Kraft, Dr. Jamin Houser, Dr. Dana Boyd, Dr. Craig Larson
HealthyStartChild
TheHealthyStart.com (main site)
HealthyStartChild.com (learning center)
1-844-Kid-Healthy
HealthyStart™ Ortho-Tain™ (Parent company)
50 years- (anniversary at be observed the end of the year.)
ISO 13485
3 million + children treated globally
37 countries
Developed by Dr. Earl Bergersen, DDS, MSD, ABO
514 current US and International patents
(Most prolific patent developer since Thomas Edison)
FDA approved
Class II Medical Device
Health Canada Certified
NO BPAs, No Silicone, No Latex,
Anti-microbial
SYMPTOMS (partial list- what happens when the airway is compromised!)
Open Mouth Breathing
Snoring
Grinding- Bruxing
Bed-wetting
ADD/ADHD behaviors
Chronic Allergies
Nightmares
Restless Sleep
Academic challenges- science, math, spelling
Aggression/depression
Dark Circles
For more information or to arrange interviews, contact:
Kathie Turner
832-880-3165
Marketing and Communications Director
TheHealthyStart.com
Source: HealthyStart™️
Share:
---
Categories: Children's Issues, Parenting, Dentistry, Family Medicine
Tags: California, child, Costa Mesa, Dental, HealthyStart
---