February is Children's Dental Health Month: The Real News-Flash Our Children Are GROWING INTO PROBLEMS
Press Release
-
updated: Feb 2, 2017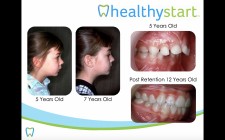 New York, NY, February 2, 2017 (Newswire.com) - A Healthy Start™ now comes from the Duo Disciplines of both the Medical and Dental world. The Pediatrician and Oral Physician now see that very often that, "Children Are Growing-Into-Problems and not Out-of-Them," So says Orthodontist, Dr. Anthony Marino, DDS, MS, of Magic Braces in Vackaville, CA.
The conviction of 30 years treatment, in taking children away from the contributing conditions and unhealthy oral habits identified in 9 out of 10 children, to a lifelong permanent remedy with an FDA Approved, near 50-year tested treatment.
A referral to the dentist in this tandem approach may start with a parent telling their pediatrician about concerns with childhood bed-wetting, appearances of behavioral traits tied to ADD/ADHD, Snoring, Allergies, Arrested Growth or Mouth Breathing.  The Crooked, Crowded Teeth or Grinding may seem like a closer dental fit- but as it turns out – they are all tied together.  It is a Growth and Development problem.
As CFO Jessica Fields of Complete Health Dentistry of Lebanon Ohio puts it, "We have a serious Medical Problem with a Dental Solution." 
For The HealthyStart™, big doors are opening with Dental Schools, Hospitals and Major Globally Recognized Clinics to teach the treatment and diagnosis developed over many decades with their patented advanced removable appliances.  There are now trained and certified doctors all across the US and more training online and at seminars like the one happening in NYC this week.
EVENT: FEBRUARY 3rd & 4th
The HealthyStart™ (CE Credits)
NYC Seminar & Conference Center
71 W. 23rd. St.
New York, NY  10010
Seminar - Lecture 
Friday 2-3-17  
From 8:30am to 4:30pm
Lecture  and  Patient Clinical
Saturday 2-4-17
From 8:30am to 2:00pm (Lecture)
PATIENT Clinical from 2:00pm until 4:30pm 
Call 844-Kid-Healthy to bring your 2-to preadolescence age child in Saturday for a free screening and evaluation
​SYMPTOMS: With a little guidance, parents can be first to identify symptoms by observing their children as they sleep. (Attached questionnaire) Patterns in these early years will follow the child through life – if not corrected in the growth years for the permanent retraining of things like Tongue Posture and Nasal Breathing. 
This is what happens when the airway is compromised!  The research is clear and the years of data- irrefutable.  The big message today, as we recognize these DENTAL CLUES for the alarm they sound, is to treat early.  Starting at age 2 and through their pre-adolescent years.  It is best to make corrections early and give the child every advantage as they start school.  The longer these habits persist- the more there is to overcome.   Once puberty occurs, there is little permanent impact possible.
Sleep Disordered Breathing presents with dozens of symptoms that can be comprehensively treated safely without pain, drugs or relapse and have permanent results if started early and there is compliance.  With this Early Ortho, the adult teeth come in straight as HealthyStart™ usually eliminates or at least greatly reduces the need for braces.  If they miss this treatment- they carry these traits through life with only Band-aids as options- with little effect and great cost. 
Symptoms happen as a result of the airway is compromised! 
VIDEOS:
A Parents Overview of Sleep-Disordered Breathing and the HealthyStart™ Treatment. (Learning to spot the symptoms/traits of SDB in children)
Dr. Brian Kraft, Dr. Jamin Houser, Dr. Dana Boyd, Dr. Craig Larson 
FaceBook intro video 
TheHealthyStart.com (main site)
HealthyStartChild.com (learning center)
1-844-Kid-Healthy
HealthyStart™ Ortho-Tain™ is the Parent company
50 years- (anniversary at be observed the end of the year.)
ISO 13485
3 million + children treated globally
37 countries
Developed by Dr. Earl Bergersen, DDS, MSD, ABO
514 current US and International patents
(Most prolific patent developer since Thomas Edison)
FDA approved
Class II Medical Device 
Health Canada Certified
NO BPAs, No Silicone, No Latex, 
Anti-microbial
SYMPTOMS (just to name a few)
Open Mouth Breathing
Snoring
Grinding- Bruxing
Bed-wetting
ADD/ADHD behaviors
Chronic Allergies
Nightmares
Restless Sleep
Academic challenges- science, math, spelling
Aggression/depression
Dark Circles
"Preparing doctors and making parents aware that many children are affected with conditions that will follow them through life, when in fact there is a safe, permanent and comprehensive solution to avoid all of that.  I push open doors with this critical and time sensitive message until all parents are aware and have access to this life-changing treatment," said Kathie Turner, Communications Director of The HealthyStart™.
For more information or to arrange an interview, contact:
Kathie Turner
Communications Director
832-880-3165
Kathie@KathieTurner.com
Source: The HealthyStart™
Share:
---
Categories: Active and Healthy Living, Dentistry, Family Medicine
Tags: ADD, ADHD, Bed-wetting, behaviors, Dental Health, New York, Open Mouth Breathing, Snoring, TheHealthyStart™
---