18Loop Welcomes Chuck Van Buren to Its Board of Directors
Press Release
•
updated: Nov 16, 2020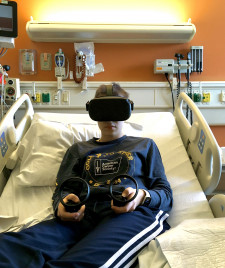 RUTHERFORD, N.J., November 16, 2020 (Newswire.com) - 18Loop Executive Director Greg Tarnacki has announced that Chuck Van Buren will join its Board of Directors. Chuck is a consumer marketing data specialist with deep knowledge of digital marketing technologies and data platforms. Chuck brings a wealth of knowledge in IT and nonprofit development and management. He holds an engineering degree from the Massachusetts Institute of Technology (MIT) and an MBA from Cheung Kong Graduate School of Business. Chuck's background spans the US and Asia across several industries including travel, entertainment, beauty, healthcare, and wellness.
Regarding 18Loop, Van Buren stated, "I'm extremely enthusiastic to be supporting the 18loop mission - exploring a whole new commercial application of VR. Innovation of this sort makes viable a route to helping children who are undergoing cancer treatment that, while so obvious, materially addresses a real, human need."
18Loop has launched its Virtual Comfort program and is preparing to accelerate fundraising to support its growth. Ten children with cancer will be enrolled in the program by early 2021 and the plan is to scale deployment to over 100 headsets by year end. Early feedback has been exceptional, with 18Loop's Virtual Reality (VR) technology helping not only children with cancer, but having a larger familial impact.
VR has been shown to improve mood and tolerance to pain. In a study from the National Institute of Health, a total of 82% of tested children with cancer stated that treatment with VR was better than previous treatments and that they would like to use VR during future treatments. It has even been reported that VR performs better than morphine for reducing pain.
About 18Loop
18Loop, a 501(c)(3) charity (EIN 82-1498855), deploys Virtual Reality (VR) headsets to help children with cancer tolerate treatment, recover and thrive as part of its Virtual Comfort program. 18Loop partners with the American Childhood Cancer Organization (ACCO) to connect with its kids. The three main focus areas of 18Loop are Advocacy and Awareness, Technology Distribution through the ACCO and the deployment of VR to cancer centers for a protocol to gather quantitative metrics. 18Loop currently deploys Oculus VR headsets with Tripp Inc. environments that deliver Virtual Stress Management capabilities to its kids. Medical Extended Reality (MXr) has recently been recognized by the FDA.
Source: 18Loop