18Loop and VRforHealth Announce Partnership to Drive Mission Awareness
Press Release
•
Apr 5, 2022
18Loop and VRforHealth have announced a partnership. The relationship will improve 18Loop's ability to fundraise and execute on research and VR distribution initiatives for kids with cancer and will drive VRforHealth's influence in the healthcare marketplace.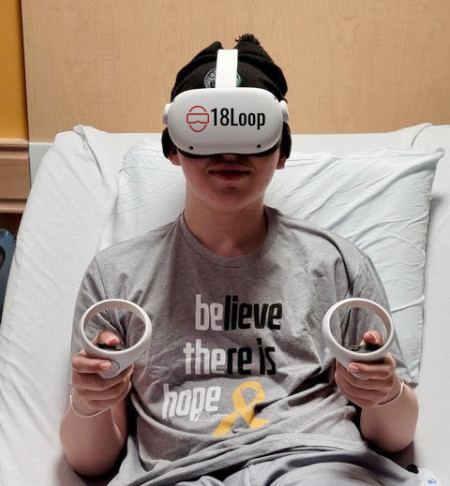 RUTHERFORD, N.J., April 5, 2022 (Newswire.com) - 18Loop and VRforHealth have announced a partnership to drive awareness of their joint mission and use cases. The partnership will support the growth of VRforHealth's innovative and inclusive platform. As an Institutional Partner of VRforHealth, 18Loop will leverage the portal to drive fundraising and technological collaboration with healthcare and VR industry leaders. VRforHealth helps site visitors learn about the therapeutic use cases of virtual reality, VR solutions and their results. It is essential for differentiating between existing VR solutions for health and wellness.
18Loop CEO and Founder Greg Tarnacki said that "working with VRforHealth and getting access to their amazing network will help us to better serve our kids with cancer. Our VR is a successful family intervention and this partnership will help us to eventually proliferate the xR technology to all children who are diagnosed with the disease. We are pleased to enter this partnership and excited for what it will bring to our constituents."
Denise Silber, Co-founder of VRforHealth, said, "VRforHealth is delighted and humbled to partner with 18Loop, whose outstanding work is helping children with pediatric cancer (16,000 in the U.S. alone) by providing them with dedicated VR headsets that will help the kids and their families get through their medical challenges with reduced anxiety and pain. VRforHealth, with our educational content and specialized Directory of solutions and technology companies, is at the crossroads of the audiences that 18Loop needs to reach in order to raise funds and execute on their mission. Together VRforHealth and 18Loop will be even stronger."
About 18Loop
18Loop, a 501(c)(3) charity (EIN 82-1498855), deploys Virtual Reality (VR) headsets to help children with cancer tolerate treatment, recover and thrive. 18Loop partners with the American Childhood Cancer Organization (ACCO), the world's largest grassroots childhood cancer charity, to connect with its kids. 18Loop currently deploys Meta VR headsets with Tripp Inc. environments that deliver Virtual Stress Management capabilities. 18Loop is a 2021 Fast Company Honorable Mention World Changing Idea.
About VRforHealth
VRforHealth, is a single resource destination, created by two women on a mission to accelerate access to the wellness and therapeutic uses of Virtual Reality. Uniquely designed to inform healthcare professionals and patients through educational, original and curated news content, the online global platform also showcases detailed profiles of VR solutions providers and their suppliers around the world, through our exclusive VRforHealth Directory. VRforHealth, a unique global resource hub and community, has offices in Dallas, Texas, and Paris, France.
Source: 18Loop