18Loop Executive Director Greg Tarnacki to Address HIMSS20 Healthcare Conference
Press Release
•
updated: Feb 18, 2020
18Loop to reach an expected 45,000 attendees of the HIMSS Healthcare Conference in an effort to promote the deployment of Virtual Reality headsets to support kids with cancer. 18Loop's goal is to help pediatric oncology patients to tolerate treatment, recover and thrive in order to eventually positively impact survival rates. HIMSS is a great vehicle to reach Healthcare professionals who can partner with 18Loop in its mission to fight pediatric cancer.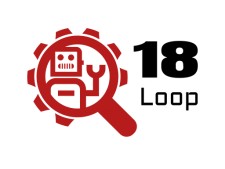 RUTHERFORD, N.J., February 18, 2020 (Newswire.com) - 18Loop Executive Director Greg Tarnacki has been invited to address the 2020 HIMSS Health Conference. The title of Greg's talk will be "Projected Patient Impact of Virtual Reality on the Recovery of Pediatric Oncology Patients". The goal of the presentation is to educate and inspire healthcare leaders to adopt VR as a tool to assist in patient recovery. Greg's talk is Session 276 on March 12 at 2:30 pm in the Orlando County Convention Center - W207C.
About 18Loop
18Loop, a 501(c)(3) charity (EIN 82-1498855), plans to deploy forty Virtual Reality headsets to kids with cancer this Spring. The goal of this Pilot technology program is to improve treatment tolerance and recovery in participating pediatric oncology patients. The Pilot, called "Virtual Comfort", is supported by research done in 2005 and published in the Journal of Psychology and Health. 18Loop is focused on advocating for and participating in the distribution of VR goggles to the 48,000 children in the US who have been diagnosed with cancer.
About HIMSS20
HIMSS20 is the can't-miss health information and technology event of the year, where professionals throughout the global health ecosystem connect for the education, innovation and collaboration they need to re-imagine health and wellness for everyone, everywhere. In a time of unprecedented Healthcare disruption, HIMSS20 calls health information and technology professionals around the world to one essential, simple, bold action: Be the change.
About HIMSS
HIMSS is a global advisor and thought leader supporting the transformation of the health ecosystem through information and technology. As a mission-driven nonprofit, HIMSS offers a unique depth and breadth of expertise in health innovation, public policy, workforce development, research and analytics to advise global leaders, stakeholders and influencers on best practices in health information and technology. Through our innovation engine, HIMSS delivers key insights, education and engaging events to Healthcare providers, governments and market suppliers, ensuring they have the right information at the point of decision. Headquartered in Chicago, Illinois, HIMSS serves the global health information and technology communities with focused operations across North America, Europe, the United Kingdom, the Middle East, and Asia Pacific. Our members include more than 80,000 individuals, 480 provider organizations, 470 nonprofit partners and 650 health services organizations.
Source: 18Loop
Tags