Yutong Introduces the Essentials of Industrial Caster Wheels Selection - YTCASTER
Press Release
•
updated: Oct 2, 2019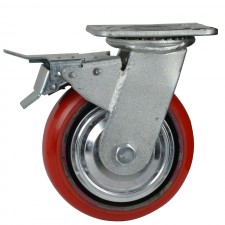 HEBEI, China, October 2, 2019 (Newswire.com) - ​​​With the development of modern industry, industrial caster wheels have become increasingly visible. Yutong often says that industrial casters refer mainly to caster products used in factories or machinery. They can be made of high-grade, imported reinforced nylon (PA6), super polyurethane, or rubber single wheels. The product has high overall resistance, impact and strength.
Simply put, industrial casters fall into two main categories:
A fixed caster is a directional wheel. It is equipped with a single wheel on a fixed bracket and can move only in a straight line.
A movable caster is a universal wheel. It is a 360-degree steering bracket with a single wheel that can travel in any direction at will.
How to choose the right industrial caster wheels:
Industrial casters are available in a wide variety of wheels, sizes, models and tire surfaces. There are many different factors to consider when choosing industrial casters. The key is to find the casters that are best suited to the environment. Yutong recommends that one considers the following aspects:
● Carrying capacity. This determines the weight of the load and the size of the wheel. It also affects the rotation of the industrial casters. For example, a ball bearing is suitable for heavy load requirements of over 180 kg.
● Use site conditions. Select a wheel that is large enough to accommodate cracks in the floor. Also consider road size, obstacles and other factors.
● Special environment. Each wheel is appropriate for different working environments. For example, traditional rubber is not resistant to acids, oils and chemicals. Instead, polyurethane rubber wheels, plastic wheels, modified Bakelite wheels and steel wheels are good choices.
●Rotational flexibility. The greater the wheel, the more labor-saving it is. The ball bearing can carry heavier loads, and it rotates more flexibly with lighter loads.
●Temperature limits. Extreme cold and heat can create trouble for many wheels. When choosing a caster, pay attention to the temperature range that is suitable for use.
In recent years, China wheel manufacturers and caster wheel suppliers have emerged in an endless stream. Yutong has professionally manufactured caster wheels for nearly 20 years.
About Yutong
​Yutong has been ​professionally manufacturing caster wheels for 16 years. During this time, we accumulated rich experiences and advanced techniques. With competitive prices and high quality, its products have won high admiration and are widely trusted at home and abroad. Its greatest desire is to produce caster products with high quality and the most competitive prices.
Contact Person: Xuhuan ZhaoXuhuan Zhao
Email: sales@ytcaster.com
Tel:+86-318-5178688
Website: https://www.ytcaster.com
Source: YTCASTER
Tags
Related Files
Additional Links