Cast Iron Casters Stand the Test of Time - YTCASTER
Press Release
•
updated: Apr 3, 2020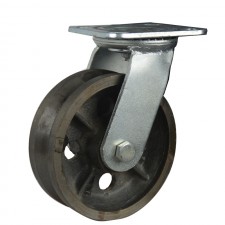 HEBEI, China, April 3, 2020 (Newswire.com) - ​​​Looking for cast iron casters? Attached to objects for ease in mobility, cast iron caster wheel examples include furniture casters, lift truck casters, toolbox casters and shopping cart casters. Of all the varieties of caster wheels, the industrial caster wheel made of cast iron provides the most strength and durability.
Designed to be attached to a larger object's bottom, scaffolding caster wheels enable industrial objects to be moved from one place to another. These are available in a range of sizes. Non-industrial types include those made of stainless steel, nylon, plastic or rubber.
There are numerous applications for industrial caster wheels, including handling heavy materials and hospital beds. Heavy-duty casters and high-capacity casters have many industrial applications such as:
tow lines in plants
assemblies
carts
platform trucks
Cast iron casters are composed of grey iron. These require minimum effort to begin to roll. These wheels are also able to resist abrasion and are exceptionally long-lasting. Industrial caster wheels such as these are built for applications that require high capacity and can withstand extreme heat.
Cast Iron Casters Can Stand The Test Of Time
For industrial applications, casters are particularly beneficial. Industrial caster and wheel can lift and transport a hundred thousand pounds in weight and are built to stand the test of time. These types of heavy-duty cast iron casters can support equipment and, at the same time, lessen resistance to facilitate movement.
Versatile
Casters are widely available. These come in various materials and sizes to accommodate any circumstance. For instance, casters make it easy to move office chairs and shopping carts. Also, casters that are mounted on plates help in transporting a heavy load. There are even specific casters that can be used for transporting fragile cargo, working around chemicals and high temperatures.
A Real Timesaver
Something you can move with ease won't take as much time to move around to the right location. In facilities in which equipment and products are frequently moved, casters will help in speeding up the process. This results in a decreased time in unloading.
Ease of Movement
One benefit of casters is that it gives ease of movement. This saves energy when unloading or loading items, as well as time. Personnel won't use up all their energy. Without casters, personnel could even get injured attempting to move awkward or heavy cargo. Aside from ease in mobility, casters that swivel allows users to move objects any which way.
Single Wheel Versus Twin Casters
Just like in many other applications, two is better than one. When using a pair of wheels, there is an increased capacity to bear any load. When deciding to use smaller rather than larger wheels, there can be more weight carried. This helps when you don't want to add height to what you are carrying. Also, users can pivot much easier with dual wheels, since each caster wheel independently swivels from each other.
About YTCASTER
YTCASTER has been a professional caster wheel manufacturer for 16 years. Its greatest desire is to produce caster products with high-quality and the most competitive prices.
Contact Person: Xuhuan Zhao​​
Email: sales@ytcaster.com
Tel:+86-318-5178688
Website:https://www.ytcaster.com/
Source: YTCASTER
Tags
Related Files
Additional Links