YTCASTER Provides Tips on How to Choose a Chinese Caster Wheel Supplier - YTCASTER
Press Release
•
updated: Oct 22, 2019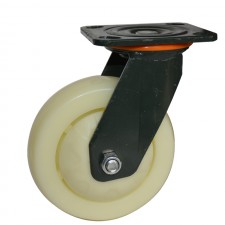 HEBEI, China, October 22, 2019 (Newswire.com) - With the development of modern industry, the market for industrial caster and wheel has grown. There are many caster manufacturers in the world. In China, one can find a large number of professional caster manufacturers. The caster manufacturing industry has been booming in China for the last 30 years. For this reason, more types of products are becoming available. The continuous improvement in labor costs throughout the last few years has led to a reduction in high-intensity labor transportation and an improvement in the efficiency of production logistics.
In China, there are nylon wheels manufacturers, cast iron wheels manufacturers, PU caster wheels manufacturers, and other types of caster wheels manufacturers, including new versions that are constantly emerging. So, how does one choose a professional caster manufacturer?
The following considerations may prove helpful:
1. Can the manufacturer provide all the necessary technical parameters, such as drawings?
2. Does the manufacturer have professional testing equipment to detect the load of the casters, including a caster walking test, a load test, and other professional caster testing equipment?
3. The products produced by different caster manufacturers will vary in quality, shape, and performance. Different requirements are used for different environments. For example, the heavy-duty casters used in factories are different from the casters used in shopping carts. Casters used in tools are different from casters used in hospital beds. Users should choose according to their actual needs. Consider the many factors needed and choose the most cost-effective and best-quality products that offer these factors.
There are many excellent caster suppliers, like Yutong in China, which offers advantages like quality, service, and price. Hengshui Yutong Metalwork Co., Ltd. is a China wheel manufacturer with nearly 20 years of professional experience. With its superb technology, high-quality products, and perfect after-sales service, it has won the trust of customers. Yutong specializes in the production and export of industrial casters of various specifications. It can provide customers with free samples for testing, and it can deliver 3-4 days before other businesses in the industry. At the same time, the company provides OEM and ODM services to serve customers worldwide.
Contact Person: Xuhuan Zhao​
Email: sales@ytcaster.com
Tel:+86-318-5178688
Website https://www.ytcaster.com
Source: YTCASTER
Tags
Related Files
Additional Links