'You Should Learn to Code,' Says CEO Brandon Frere
Press Release
-
updated: Jul 12, 2018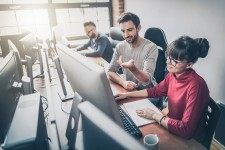 PETALUMA, Calif., July 12, 2018 (Newswire.com) - Creating effective software tools may be the most powerful way to improve a business. Learning to code can grant the ability to imitate, adapt or invent technologies and can give a business a huge advantage. If one is serious in business, an entrepreneur should be pursuing any advantage that presents itself, and ignorance of such an advantage will do such individuals no favors. Out of all the advantages that one can gain, the technological advantage is the most straightforward and useful, says Brandon Frere, successful entrepreneur and CEO of Frere Enterprises.
"If you need to choose one skill to learn, it should be coding," said Brandon Frere. "Gaining a technological edge in business feels like using a drilling machine when everyone else is using shovels."
As soon as entrepreneurs decide what they want to accomplish, coding can give them a means of mocking up and testing that desire. The ability to construct a digital simulation can reduce the amount of time needed to dedicate to each iteration of the design and save material cost as well since a physical prototype isn't necessary. If something in the digital prototype is wrong, it can be much easier to change the math through coding than to develop a completely new physical prototype.
If you need to choose one skill to learn, it should be coding. Gaining a technological edge in business feels like using a drilling machine when everyone else is using shovels.
When the right tool is programmed, it could save hundreds of hours of physical labor, and lead to better results overall. Coding can also create new opportunities for collecting data. By measuring different data points in someone's Facebook picture, for example, one may be able to find out where they are, what demographic they are likely to be in and choose whether to market to them. By analyzing a huge volume of calls, one may be able to make a progression graph to allow employees in sales to know how well they are doing in real time when they are on the phone. If an entrepreneur can tangibly envision a path to improvement with their data, then coding can bring that idea to life.
For industries where programming doesn't provide an obvious benefit, there are a variety of tasks that programming can help with. The ability to design a website to sell and market a product has already become a necessity for most businesses. Programming can also save time by automating tasks and simulate an environment for demonstration purposes or make significant predictions by using big data. With the ability to create dreams on the big screen, there is no skill more useful than programming.
"It's a skill that allows an employee to use all information available to gain a massive advantage," said Brandon Frere. "The amount of power you get from coding is only limited by creativity and versatility. Learn as much as deeply and broadly about technology as you can, and then start making your dreams come alive."
About Frere Enterprises
Brandon Frere is an entrepreneur and businessman who lives in Sonoma County, California. He has designed and created multiple companies to meet the ever-demanding needs of businesses and consumers alike. His company website, www.FrereEnterprises.com, is used as a means to communicate many of the lessons, fundamentals and information he has learned throughout his extensive business and personal endeavors, most recently in advocating on behalf of student loan borrowers nationwide.
As experienced during his own student loan repayment, Mr. Frere found out how difficult it can be to work with federally contracted student loan servicers and the repayment programs designed to help borrowers. Through those efforts, he gained an insider's look into the repayment process and the motivations behind the inflating student loan debt bubble. His knowledge of the confusing landscape of student loan repayment became a vital theme in his future endeavors, and he now uses those experiences to help guide others through the daunting process of applying for available federal repayment and loan forgiveness programs.
FrereEnterprises.com
Source: Frere Enterprises
---
Categories: Entrepreneurship
Tags: advantage, business edge, code, coding, entrepreneurship, skills, small business owner
---