Predictive Analytics for FinTech: An Increasingly Necessary Tool to Stay Competitive, Says Frere Enterprises
Press Release
-
updated: Nov 29, 2018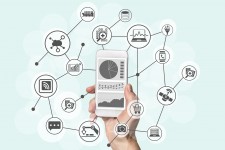 PETALUMA, Calif., November 29, 2018 (Newswire.com) - The FinTech world has seen some major innovations in recent years with big data and blockchain, but without analytics, data is essentially useless. The rise of predictive analytics may very well change the way FinTech works while creating a safer and more efficient financial industry. Predictive analytics is a type of advanced analytics that is used to make a prediction about future events using many techniques, such as data mining, modeling, machine learning and artificial intelligence. Frere Enterprises, a company that specializes in digitally transforming businesses for the modern age, believes that predictive analytics will become an industry standard for FinTech.
"Making your company stand out from the competition isn't always easy," said Brandon Frere, CEO of Frere Enterprises. "Understanding your company's data, and predicting trends or events based on it, can provide a huge advantage that can allow you to make more informed decisions and further drive growth."
Understanding your company's data, and predicting trends or events based on it, can provide a huge advantage that can allow you to make more informed decisions and further drive growth.
Banks and other businesses have long been using data to predict future trends, but what makes predictive analytics different is the ability for the smart technologies to accurately identify and exploit data patterns to figure out new opportunities and potential risks. Fraud protection, in particular, is expected to highly benefit from predictive analytics, allowing FinTech companies to more easily identify and prevent fraudulent behavior before damage is done, granting customers a higher sense of security and trust.
FinTech startups have been popping up all over the world and investments have been slowing down, signaling industry saturation and tougher competition. With tougher competition, the need for customer acquisition and retention goes up exponentially; however, predictive analytics can help by greatly improving the customer experience. Chatbots are becoming more commonly used to help augment human customer service, but their data can also be leveraged to discover insights into customer behaviors and how they feel about the service as a whole. By using that unique data, predictive analytics can be used to create better chatbots, which in turn collect better data; a continuous loop of improving technology. Predictive analytics will also be able to help with better customer targeting by utilizing advanced segmentation strategies to identify consumer behaviors.
"Data-driven decisions are the most informed decisions," said Frere. "Predictive analytics can effectively transform the way a company functions while greatly expanding their growth potential."
About Frere Enterprises
Run by CEO Brandon Frere, Frere Enterprises is a California-based company with a global vision based around the usage of special financial technology, or SpecFinTech, with a current focus on financial wellness and productivity.
He has designed and created multiple companies to meet the ever-demanding needs of businesses and consumers, alike. Frere's website, www.FrereEnterprises.com, is used as a means to communicate many of the lessons, fundamentals and information that he has learned throughout his extensive business and technological endeavors. Through Frere Enterprises, he aims to apply those lessons to other business opportunities.
Frere Enterprises' mission is to acquire traditional businesses and digitally transform them to meet and exceed modern day demand. This mission seeks to transform such businesses by developing the newest and most evolved technologies to speed up the evolution of financial services in order to meet the demands of the modern consumer and exceed the potential of the modern era.
FrereEnterprises.com
Source: Frere Enterprises
Share:
---
Categories: Entrepreneurship, Business Technology
Tags: business decisions, data, entrepreneurship, fintech, innovation, predictive analytics
---