WSJ CEO Council Meeting to Feature Elizabeth Warren, Rudy Giuliani, Jack Uldrich, Kellyanne Conway & Oliver Hart Among Others
Press Release
-
updated: Nov 15, 2016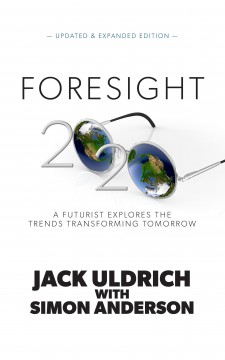 Washington, DC, November 15, 2016 (Newswire.com) - One week after the historic 2016 Presidential election Wall Street Journal editors are set to join business leaders, change agents, senior Democrats, and top advisors to Trump at their U.S. Annual Meeting being held in Washington D.C. today.
Among the featured guest speakers is global futurist Jack Uldrich. Uldrich, who hales from Minneapolis, is a world-renowned futurist, public speaker, and best-selling author. His books include the award-winning bestsellers The Next Big Thing Is Really Small: How Nanotechnology Will Change the Future of Your Business; and Higher Unlearning: 39 Post-Requisite Lessons for Achieving a Successful Future. His most recent book is Foresight 20/20: A Futurist Explores the Trends Transforming Tomorrow.
He will address the diverse group of CEO Council attendees with his latest keynote on "The Big AHA." AHA is Uldrich's acronym for Awareness, Humility, and Action. He says, "The top trends to be aware of, have humility regarding, and take strategic action on are: Augmented Reality/Virtual reality, Artificial Intelligence, Blockchain, Robotics, Nanotechnology, Renewable Energy, Collaborative Consumption and the Sharing Economy, 3D printing/additive manufacturing and Global Communication."
During his presentation, he will do a deeper dive into each of the trends. 
When asked what the key takeaway will be Uldrich says, "Time is of the essence. The future is being created as we speak here today. We must open our awareness, unlearn old habits and release our antiquated ways of thinking, and take preemptive, positive action now." 
Uldrich is a frequent speaker on the technology, change management, and leadership lecture circuits, and has addressed numerous businesses, trade associations, and investment groups around the world, including IBM, Cisco, USAA, General Electric, Wipro, Verizon, General Mills, Pfizer, and the US Chamber of Commerce. He is also a regular guest on CNBC, MSNBC, and CNN.
For more information on Jack Uldrich, his speaking availability and writing, viewers are encouraged to visit his website.
Source: Jack Uldrich & The School of Unlearning
Share:
---
Categories: Business News, Public Sector, Elections, Environmental Protection, Government News, High Technology
Tags: Annual Meeting, CEOs, Change Agent, DC, Trump, WSJ
---