Trucking's Change of Pace is About to Hit Warp Speed, According to Futurist Jack Uldrich
Press Release
•
updated: Jun 7, 2019
Internationally recognized transportation futurist Jack Uldrich is speaking in South Carolina today about the fast-changing future of the trucking industry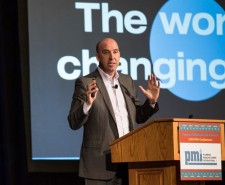 MYRTLE BEACH, S.C., June 7, 2019 (Newswire.com) - ​​​​​​​Global Futurist and best-selling author Jack Uldrich is presenting the opening keynote today at the South Carolina Trucking Association's annual conference in Myrtle Beach. His presentation, titled Trucking's Pace of Change is About to Hit Warp Speed: Exploring 5G and the Trends Transforming Tomorrow, will highlight emerging technologies that could transform the trucking industry. His keynote also helps leaders "unlearn" or free themselves from the obsolete knowledge and assumptions so that they can survive and thrive in an era of unparalleled change.
In Uldrich's latest award-winning book, Foresight 2020, he and co-author Simon J. Anderson highlighted the possibilities that emerging technology could create, in their chapter Moving Forward: The Future of Transportation. Anderson also frequently speaks at trucking industry events, including presenting at TMW TransForum, the Truckload Carriers Association's annual conference, and the in.sight User Conference. Uldrich and Anderson's insights on the industry have also been featured in a wide variety of trucking media and both focus a large portion of their research on related trends and technologies.
According to Uldrich, "Thinking like a futurist involves appreciating how the world of tomorrow is changing. Far too often companies are fixated on issues that are front and center, or at times, they are stuck dealing with issues from the past. They aren't taking time out to reflect on what the future will hold in store."
He continues, "New advances in technology bring forth exciting discoveries every day. But often lost in this new reality is the fact that organizations must unlearn old, obsolete knowledge and old ways of doing business before they can seize tomorrow's opportunities."
In today's keynote, Uldrich will demonstrate how a big part of future-proofing is recognizing that "business-as-usual" may not be an acceptable strategy in the future. With this in mind, he will encourage leaders to consider the following: "You can either be humble about the future or be humbled by the future."
Jack Uldrich is an acclaimed global futurist, compelling keynote speaker, and best-selling author. His past works include, The Next Big Thing is Really Small: How Nanotechnology Will Change the Future of Your Business; Jump the Curve: 50 Strategies to Help Your Company Stay Ahead of Emerging Technology, and most recently, Foresight 20/20: A Futurist Explores the Trends Transforming Tomorrow.
Lauded for his research and speaking on technology, change management, and leadership skills, Uldrich has addressed numerous businesses, trade associations, educational, government and investment groups on five continents and in 49 states in the U.S.
To learn more about Jack Uldrich, his speaking availability, or his books, please visit JackUldrich.com.
Source: Jack Uldrich & The School of Unlearning
Related Media