World's First Patent-Pending Push-Up Trainer Grips for All Athletic Levels, the Vsique, Launches on Kickstarter
Press Release
•
Mar 30, 2022
Production has started to support the goal to raise $10,000 to bring these versatile grips to the widespread consumer market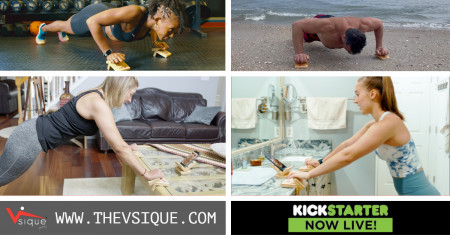 CARY, N.C., March 30, 2022 (Newswire.com) - Strosion launches The VsiqueTM, its patent-pending push-up training grips, on crowdfunding site Kickstarter with rewards. Production of The Vsique has started to support the crowdfunding goal. The Vsique is made from natural wood with no metal or plastic parts, making it eco-friendly, extremely lightweight and compact to help users work out anytime, anywhere. The Vsique Push-Up Grips will revolutionize the way people perform Push-Ups by providing an easy, convenient, and comfortable fitness platform for beginners, athletes, and more importantly, busy individuals who struggle to make exercise a daily habit.
Back The Vsique on Kickstarter now with a variety of rewards: https://www.kickstarter.com/projects/thevsique/the-vsique-true-push-ups-trainer-grips-patent-pending/community
"With our commitment to helping others get healthier, stronger and fitter, we have taken actions to expedite product availability,'' states Nizar Azzam, Strosion Founder and Inventor of The Vsique. "I am pleased at how The Vsique has evolved into a viable option for promoting health and fitness for beginners and busy individuals. Developing and maintaining a daily exercise routine is a big challenge." He adds, "We are thrilled with the initial users' feedback of how The Vsique helped them make push-ups a daily habit exercise at the comfort of their homes, offices and while on the go; we can't wait to share it with the Kickstarter community and have them help nurture this unique product with us. Thank you for your support."
Product Features:
Perform countertop push-ups and gradually move to lower surfaces as push-ups technique progresses.
Ergonomic design to virtually eliminate wrist pain and discomfort while training wrists, elbows, and shoulders for optimum mobility.
Palm rest designed to contour to hand palm shape with a wide open-hand surface to distribute body weight to reduce pressure and strain on wrists.
Regardless of fitness skill level or age, offers user challenges by varying hands and feet distance and elevation from floor level to target different muscle groups, develop push-up techniques, get a deeper stretch, and or complement current workout.
#asily and comfortably develop strength and proper Push-Ups technique utilizing elevated surfaces (home, office, on-the-go) without the sharp countertop edge pain on palms.
About Strosion, LLC.
Incorporated in 2021, Strosion aims to introduce solutions targeting home, health, and fitness markets. Utilizing our in-house resources and experts with over 30 years of experience, we continuously evaluate licensing opportunities and partnerships with manufacturers, resellers and private label opportunities. Strosion has made a significant investment in establishing in-house digital marketing, IP portfolio, and a rapid product development and prototyping facility.
Related links for more information and press inquiries:
http://www.thevsique.com
https://www.youtube.com/watch?v=iMBfjwdXVRw
Media Contact:
Strosion, LLC.
E: info@strosion.net
T: +1 919-335-6006
Source: Strosion