World Tour Promotes Human Rights in a Pivotal Year
Press Release
•
updated: Mar 11, 2018
Youth for Human Rights International is committed to the vision of the authors of the Universal Declaration of Human Rights, now celebrating its 70th anniversary year. The group carries out the document's imperative 'to strive by teaching and education to promote respect for these rights and freedoms.'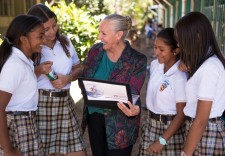 SANTA CRUZ, Cosa Rica, March 11, 2018 (Newswire.com) - As the 70th anniversary of the Universal Declaration of Human Rights (UDHR) approaches, human rights violations still dominate media headlines — from human trafficking to ethnic cleansing and religious repression. To make an impact internationally, Youth for Human Rights, committed to full implementation of the UDHR, has launched its 15th annual Youth for Human Rights World Educational Tour.
This year's World Educational Tour 2018 will circle the globe, visiting Costa Rica, Mexico, the Gambia, South Africa, India, Cambodia, Taiwan and the United States. It will also participate in regional Youth Summits in India, Mexico, Taiwan and the USA to expand the scope and impact of the initiative exponentially.
First stop: Costa Rica.
The country, and the rest of Central America, is still recovering from decades of civil war that killed hundreds of thousands and decimated indigenous communities throughout the region.
The tour began with a meeting between Youth for Human Rights International (YHRI) Executive Director Dr. Mary Shuttleworth and Dr. Oscar Arias, past president of Costa Rica (1986–1990 and 2006–2010) and recipient of the Nobel Peace Prize (1987) for his work to end the Central American conflicts. Dr. Arias, who attended the YHRI's 2017 International Human Rights Summits at the United Nations, is committed to raising awareness of the UDHR.
Recent reviews by the UN Office of the High Commissioner of Human Rights note that despite steady improvement, Costa Rica has areas in need of remedy including:
Lack of accessible information and limited awareness among women about their rights and legal remedies to claim them
Persistence of discriminatory gender stereotypes in mass media and in advertisements
Failure to consistently respect the rights of indigenous peoples
Conflicts stemming from non-indigenous people occupying lands recognized as indigenous territories.
Increasing awareness of the UDHR contributes to improving each of these and many other issues.
The YHRI World Tour conducted a series of seminars and training sessions in Costa Rica, including:
A seminar at Colegio Técnico Profesional in the town of Jacó
A human rights workshop to Jacó schoolchildren
A workshop to train staff at the Jacó Civic Center for Peace
A seminar to 300 Nandayure residents including the mayor and members of the police force, organized by the chief of police
A seminar to some 500 students at Liceo Santa Cruz College, also attended by the city's deputy mayor
A lecture to 500 underserved women and children, organized by Father Sergio Valverde's Obras del Espiritu Santo Association in the barrio of Cristo Rey, a poor area in southwest San José.
A seminar to 300 students at San Luis Gonzalez, the oldest school in Costa Rica, which will be piloting the Youth for Human Rights program for export to schools throughout the country. The 76 members of the school's ethics committee have decided to train on the program and deliver YHRI human rights training to fellow students.
Los Angeles-based Youth for Human Rights International is a nonprofit corporation founded in 2001. The purpose of YHRI is to inspire youth to become advocates for tolerance and peace by educating them on the United Nations Universal Declaration of Human Rights, the world's premier human rights document. There are now more than 150 Youth for Human Rights International chapters around the world. YHRI's award-winning materials are available in 27 languages, bringing the message of human rights to 195 nations.
Source: Youth for Human Rights International
Related Media