UK Series Celebrating 1,000 Years of Human Rights Features Youth for Human Rights International
Press Release
•
updated: Oct 23, 2020
A project exploring the origins of the Universal Declaration of Human Rights features Youth for Human Rights among the guest list of award-winning artists and activists celebrating the 1,000th anniversary of the UK's first equality law.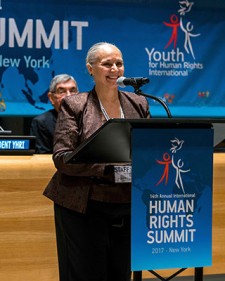 LOS ANGELES, October 23, 2020 (Newswire.com) - A thousand years ago, King Knut granted the English equal treatment under the law.
Kingdom 1,000 is a program created to celebrate this milestone with 13 weekly episodes hosted by Cambridge historian Chip Colquhoun, featuring Korky Paul, Zimbabwe-born illustrator of world-renowned Winnie the Witch books; BBC Food chef Manju Mahli, who created "Brit-Indi" cuisine; president of Youth for Human Rights International, Mary Shuttleworth; autistic songwriter Maxim Thompson; deaf actor Stephanie Back; and storyteller Wendy Shearer, descendant of the Windrush families—the first West Indies immigrants to Britain.
It all began when Colquhoun and Manchester University Senior Medieval History Lecturer, Dr. Charles Insley, discovered the significance of King Knut's proclamation of 1020: that 2020 was the 1,000th anniversary of a human rights precedent predating the Magna Carta by 200 years and the Universal Declaration of Human Rights by 928.
Kingdom 1,000 was funded by Arts Council England, project-managed by Cambridgeshire County Council, and codesigned with Voluntary Arts as a series of public events. With the COVID-19 pandemic, it moved online, with participants joining through Zoom.
Colquhoun discovered Youth for Human Rights International (YHRI) when he found their documentary, The Story of Human Rights, on their website and decided to make YHRI a beneficiary of the Kingdom 1,000 program.
YHRI president Mary Shuttleworth, featured in an episode, said "There is so much talk about human rights abuse, which is correct, but we have to educate people to prevent these things ... To me, equality is the balance of rights and responsibilities."
For example, every student in school has "the right to education" but by not studying or doing homework, they don't benefit from it. "To me, every right we have, we all have to have our own responsibility to make that human right work," she said.
Shuttleworth shared how YHRI materials have changed young people's lives. A 5-year-old came home from her first day at school in tears because she was bullied. Her mother showed her the YHRI public service announcements and the daughter realized "I have human rights!" Next, her mother brought these videos to school and the teacher let her show them to the class. When her classmates realized they were violating the girl's human rights, the bullying ceased.
To watch the Kingdom 1,000 shows, visit kingdom1000.com. For more information on Youth for Human Rights International, visit youthforhumanrights.org.
Youth for Human Rights International is the youth component of United for Human Rights, a nonprofit, tax-exempt organization headquartered in Los Angeles, with over 150 groups, clubs and chapters around the world. With its educational materials translated into 27 languages, United for Human Rights brings the message of human rights to more than 190 nations and territories.
Source: Youth for Human Rights International