Shaping Peace Together: A Global Online Conference Celebrating International Peace Day
Press Release
•
updated: Sep 18, 2020
Join United for Human Rights, September 21, 2020, at 9 a.m. PST. Learn—Inspire—Act.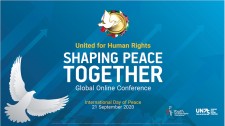 LOS ANGELES, September 18, 2020 (Newswire.com) - ​​​​​What will it take to create a world without violence and armed conflict? And is it even possible?
An online global conference in celebration of International Peace Day, organized by United for Human Rights, takes up this question with presentations by leading humanitarians and activists from around the world. They will also answer questions from those attending online via Zoom, Facebook Live and YouTube Live.
Find out why the motto for the United for Human Rights Peace Day celebration is Learn, Inspire, Act.
Learn of the work of internationally renowned human rights icons including:

Nobel Peace Prize Laureate Oscar Arias Sánchez, who served two terms as Costa Rica's president.
African Union's Amb. Salah S. Hammad, who will describe the role youth play in silencing the guns in a continent of 1.2 billion people.
Joy Ngoma, granddaughter of Nobel Peace Prize Laureate Bishop Desmond Tutu, who will speak about how one voice united millions and changed a nation forever.​Sari Lehtiranta, Deputy Permanent Representative of Finland to the United Nations, who will share the perspective of a diplomat working at the UN Office in Geneva.​
Troy Wolfe, Senior Director for Partnerships and Special Initiatives of the United Nations Foundation/United Nations Association of the United States, who will give hands-on solutions, backed by years of experience, about what everybody can do now in shaping global peace.

Learn about online human rights tools United for Human Rights has developed and makes available to anyone free of charge in 17 languages.
Participate in the live chat and contribute to the Q&A session.
Join the event Monday, September 21, 2020:
9 a.m. in Los Angeles
10 a.m. in Central America
11 a.m. in Mexico City
Noon in New York
5 p.m. in London
6 p.m. in Geneva and South Africa
7 p.m. in Addis Ababa
9:30 p.m. in New Delhi
And any time zone in between.
The event will be simultaneously translated in Spanish and French.
Register today at shapingpeace.eventbrite.com
United for Human Rights, with its youth component Youth for Human Rights International, is a nonprofit, tax-exempt organization headquartered in Los Angeles, with over 150 groups, clubs and chapters around the world. With its educational materials translated into 27 languages, United for Human Rights brings the message of human rights to more than 190 nations and territories.
Source: United for Human Rights