World Premiere of 'Angelena: Change the World' Documentary Feature Film
Angelena Bonet attends the world premiere of her documentary feature film during the Hot DOCS Film Festival.
Press Release
-
updated: May 10, 2018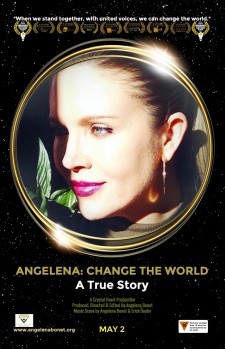 TORONTO, May 10, 2018 (Newswire.com) - Angelena Bonet of Crystal Heart Productions has received two Awards from the Bare Bones International Independent Film and Music Festival. Bonet's debut documentary feature film "Angelena: Change The World" and the featured music video "Change The World" screened at the 19th Annual Bare Bones International Independent Film and Music Festival on April 28, 2018. The festival, held in Muskogee Oklahoma, took place the week prior to Angelena's world premiere on May 2. Bonet flew in from Sydney, Australia to attend the Hot Docs Film Festival in Toronto and present her film for the first ever public screening at the Imagine Carlton Cinemas. Angelena introduced her film and conducted a Q&A after the screening. Her film has been very well received and is now in negotiations for a worldwide distribution deal.
Her documentary chronicles her life to the present day, which she produced, directed and edited in its entirety. "Angelena: Change The World" features raw footage of her life, including her first television appearance at the age of four, her time as an Australian supermodel and now as a global women's rights activist. She co-wrote the musical score with her late fiancé, Erick Deeby, and has shared their special project as the film's soundtrack, which has also won ten awards and five official selections in the U.S. thus far, including Original Song ("Tragic Fairytale"). Angelena wrote the lyrics and melody to his instrumentals during her time of grief and include "Tragic Fairytale," "On My Way" and "Change The World," to name but a few. Her fiancé suddenly and unexpectedly passed away three days after they got engaged in 2007 and she has kept her promise to him to finish their special project.
"To have the world premiere for my film in Toronto has been magical! To see my life on the big screen, after such a difficult journey, is a special experience that I will never forget. I had won two awards in the US at the Bare Bones International Music & Film Festival the week prior and the support I have been receiving has been nothing short of phenomenal. I am just so grateful to all the film festivals and the public for all the kind feedback, it has really touched my heart."
Bare Bones International Film & Music Festival is dedicated to screening feature motion picture projects with budgets less than one million dollars. Our philosophy is to promote and support the efforts of the small budget filmmakers and producers. We treat everyone the way we would like to be treated and provide lots of encouragement. The festival is a spring break and networking opportunity for actors, writers, filmmakers and producers. Our small town experiences will give visitors a break from the hustle and bustle of a big city. In the city of Muskogee, Oklahoma, USA, everyone greets you with a smile and a friendly "howdy." http://www.barebonesfilmfestival.org.
Bare Bones International Film & Music Festival has been named one of the "25 Festivals Worth the Entry Fee" by Moviemaker Magazine and one of the "20 Best Festivals for New and Emerging Filmmakers." PBS included Bare Bones as one of the top 20 documentary festivals. The Bare Bones Film Festival experience has long been touted as the "Friendliest Film Festival" by the many filmmakers who return year after year.
The festival will feature narrative and documentary features, short documentary, short narrative and student films, music videos, animation and live screenplay readings in its competitive program. Live music and entertainment, classic car shows, receptions, after parties and tours of surrounding areas make this festival a relaxed atmosphere where lasting friendships are made and filmmakers are treated like royalty and receive the recognition independent filmmakers deserve.
For more information, visit Crystal Heart Production's website at http://www.angelenabonet.com/press.
Source: Crystal Heart Productions
Share:
---
Categories: Movies
Tags: activist, award-winning, Awards, biographical, director, documentary, film, film festival, filmmaker, music, singer, women's rights
---