Angelena Bonet Wins Her 23rd Award at Impact Docs Film Festival
Press Release
•
updated: Feb 16, 2019
Bonet makes an 'impact' with her powerful documentary feature film "Angelena: Heart Of The Matter" as she wins another award in the U.S.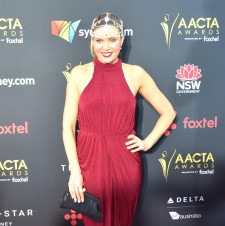 SYDNEY, February 16, 2019 (Newswire.com) - Australian-born, former supermodel turned independent documentary filmmaker and singer/songwriter, Angelena Bonet (Founder and CEO of Crystal Heart Productions) has won her 23rd film and music award in America for her documentary sequel "Angelena: Heart Of The Matter." The award was given for Bonet's sequel documentary feature film which chronicles her life in recent years, from where "Angelena: Change The World" left off. She produced, directed and edited the film in its entirety, including co-writing and singing the multi-award winning soundtrack with her late fiancé, Erick Deeby.
"A huge, heartfelt thank you to the Impact Docs Film Festival! You supported my debut film and to win again for the sequel is a beautiful surprise and much more than I ever imagined. My focus was purely on healing, on my recovery and honoring the promise I made to my late fiancé, all the while vowing never to be silenced. Pushed beyond my absolute limit, I miraculously managed to put the pieces back together, by channeling my emotions into my art, and hence had a cathartic experience. What can I say? This Award of Recognition is like the proverbial icing on the cake. Thank you so much!"
Angelena Bonet's documentary feature films "Angelena: Change The World", "Angelena: Heart Of The Matter", and more recently documentary short film "Change The World", all feature the soundtrack she co-wrote from her heart and soul with her late fiancé Erick Deeby. He had written and recorded instrumental pieces of music for her between 2005 and 2007 then suddenly and unexpectedly passed away three days after they got engaged in August 2007. Bonet then wrote the lyrics and melody to his music after his devastating death and during her time of deepest grief. Then on the 26th of May, 2012, she was a victim of a violent attack and kidnapped and gang-raped but miraculously survived the attempted murder in her homeland of Australia. Suffering Post Traumatic Stress Disorder as a consequence of the horrific attack, orchestrated by someone that she knew and trusted, she is now ready to share her story.
Now empowered by the crime that almost took her life, Bonet has also made it her life mission to end violence against women. Interviewing women and girls from all around the world and from all walks of life, "Angelena: Heart Of The Matter" is her third documentary feature film and includes interviews with women's rights leaders such as President Obama's Women's Equality Advisor Tina Tchen and Tony award-winning playwright and activist Eve Ensler. Bonet has served as the Australian Ambassador for World Mental Health Day, a public speaker at V Day Organization's One Billion Rising events, a member of the RAINN Organization speaker bureau and an official blogger for OXFAM.
Impact DOCS recognizes film, television, videography and new media professionals who demonstrate exceptional achievement in craft and creativity, and those who produce standout entertainment or contribute to profound social change. Documentaries were received from 30 countries, including veteran award-winning filmmakers and fresh new talent. Entries were judged by highly qualified and award-winning professionals in the film and television industry.
In winning an Impact DOCS award, Angelena Bonet joins the ranks of other high-profile winners of this internationally respected award, including the Oscar-winning director Louie Psihoyos for his 2016 Best of Show – Racing Extinction, Oscar winner Yael Melamede for (Dis)Honesty – The Truth About Lies, and Emmy Award winner Gerald Rafshoon for Endless Corridors narrated by Oscar-winner Jeremy Irons, and many more.
Rick Prickett, who chairs Impact DOCS, had this to say about the latest winners: "The judges and I were simply blown away by the variety and immensely important documentaries we screened. Impact DOCS is not an easy award to win. Entries are received from around the world from powerhouse companies to remarkable new talent. Impact DOCS helps set the standard for craft and creativity as well as power catalysts for global change. The goal of Impact DOCS is to help winners achieve the recognition they deserve for their dedication and work."
For more information, contact Angelena Bonet via Twitter @angelenabonet or visit Crystal Heart Productions at www.crystalheartproductions.com.
Source: Crystal Heart Productions
Related Media
Tags
Additional Links