Angelena Bonet is 'Changing the World' as She Wins 'Inspirational Woman in a Film' at the LA Film Awards on the Eve of International Women's Day
Press Release
•
updated: Mar 8, 2019
Australian documentary filmmaker, singer/songwriter and humanitarian, Bonet, wins her 24th award in America for her biopic and social justice documentary short film "Change The World".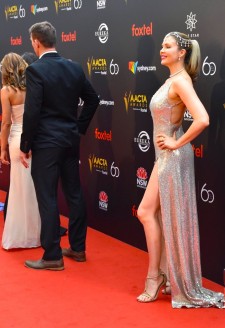 SYDNEY, March 8, 2019 (Newswire.com) - Australian documentary filmmaker, Angelena Bonet (Founder & CEO of Crystal Heart Productions), has won her 24th film and music award in the U.S. thus far for her biopic documentary short film Change The World at the prestigious LA Film Awards.
"I want to thank LA Film Awards for this special award, it has really touched my heart! The premeditated murder attempt committed by a loved one in 2012 was beyond horrific, there are actually no words to describe that evil attack. Then to have suffered Post Traumatic Stress Disorder as a consequence was an absolute living nightmare. On top of that, my mother didn't believe me, and I have been subsequently ostracized by my entire immediate family, which was yet another trauma that pushed me past my limit and to the brink of suicide. I dedicate this award to every survivor whose families didn't believe them, for that is another form of violence in its own right and how victims have been silenced for millennia. I promise to continue to stand up and speak out... not just for myself, but for all of us. I am all about turning tragic into magic, and my message is very simple - I will never be silenced!"
Angelena Bonet's multi-award winning documentary short film Change The World, and original music soundtrack (available on iTunes) features the songs she co-wrote from her heart and soul with her late fiancé, Erick Deeby. He had written and recorded instrumental pieces of music for her between 2005 and 2007 then suddenly and unexpectedly passed away three days after they got engaged in August 2007. Bonet then wrote the lyrics and melody to his music after his devastating death and during her time of deepest grief. Then on the 26 of May 2012, she was a victim of a violent attack and was kidnapped and gang-raped but miraculously survived the attempted murder in Melbourne, Australia. Suffering Post Traumatic Stress Disorder (PTSD) as a consequence of the heinous crime, orchestrated by someone that she knew and trusted, she is now ready to share her story.
Angelena Bonet is a warrior in the fight to end violence against women. With a fierce commitment to helping victims heal and take back their life, she brings to bear a multitude of talents, wisdom and personal experience. Only from the depths of her despair and darkest days has she truly found her voice and the courage to share her experiences and to speak out about issues generally swept under the carpet by society. With multiple outlets for her commitment to supporting non-violence and health recovery, Bonet has also produced two documentary feature films Angelena: Change The World and the sequel Angelena: Heart Of The Matter in their entirety chronicling her life to date. From a former Australian supermodel to global women's rights advocate, Bonet's win comes on the eve of International Women's Day, where she will celebrate the day as a guest of UN Women at their Annual Breakfast.
Los Angeles Film Awards (LAFA) is a monthly film and screenplay competition for filmmakers worldwide. LAFA is the first festival to receive 300+ five-star reviews on FilmFreeway, out of over 7,000 film festivals. Our mission is to promote films and be another step up in the filmmakers' careers. Each month, our Jury will award the best films through private screenings, and do a special interview with the winner of the Best Picture award.
For more information, contact Angelena Bonet via Twitter @angelenabonet or visit Crystal Heart Productions at www.crystalheartproductions.com.
Source: Crystal Heart Productions
Related Media
Tags
Additional Links