Winery Trains Puppy to Do Two Very Different Jobs
Honig Vineyard and Winery in Napa Valley trains puppy to sniff vineyard bugs and as a diabetic alert dog for nine year old daughter, Sophia.
Press Release
-
updated: Feb 7, 2017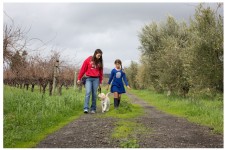 Rutherford, CA, February 7, 2017 (Newswire.com) - Honig Vineyard and Winery, in Rutherford, CA is proud to announce that they have hired a new four-legged employee: A golden lab named Honey, who was hired to fill two very important jobs. Honey will be trained to sniff out pests in the vineyard, and to detect and report low blood sugar in nine year old Sophia Honig, who has Type 1 diabetes.  The Honig's haven't given up making award winning wine, but following on the success of their past "sniffer" dog project, they are excited to have this new opportunity to train a dog to not only protect the vineyard, but provide support for the family as well.
In 2005, Michael Honig, President and CEO of Honig Vineyard and Winery, worked with the Assistance Dog Institute (now known as Bergin University) in Santa Rosa, CA to help train some very special golden retrievers. The dogs could detect the female mealybug pheromone. Early detection of the bug allows the grower to treat or remove a vine or two, alleviating any broad use of pesticides. This program was very successful, and served to underscore the Honig's commitment to sustainability.
In 2016, Honig Winery adopted Honey, a yellow lab pup who will be the first ever dogs to be trained as a dual-scent sniffer. As in 2005, the dog will be trained to sniff out the pheromone for the vine mealy bug. While the pest is not rampant in Napa Valley vineyards, and is not present in the Honig vineyard, it is an ongoing issue for winegrowers that require continued attention. As a trained "sniffer" dog, Honey will be one more resource available for detection of the pest.   Although, the family is excited to continue their support of this sustainable effort, they have tasked Honey with a second, and maybe even more important role within the family, as a diabetic alert dog for Sophia Honig. 
Sophia, now nine years old and daughter of Stephanie and MIchael Honig, was diagnosed with Type 1 diabetes, an autoimmune disease, at the age of five. If a person is diagnosed with type 1 diabetes, their pancreas produces little to no insulin, and the body's immune system destroys the insulin-producing cells in the pancreas.
Sophia and her family do 15 to 20 blood glucose checks a day. Sophia wears two medical devices - an insulin pump, and continuous glucose monitor – to oversee and deliver the insulin her body cannot produce. If her blood sugar drops too low, it can lead to seizures, or brain damage, and the results can be life threatening. This is where Honey comes in. Before she's trained as a pest detector, Honey will spend several months learning to detect Sophia's blood sugar levels. If Sophia's blood sugar drops below an acceptable level, Honey will know 15 minutes before the glucose monitor, and she will signal Sophia or her parents.
This is the first time that trainer Carleigh Long has ever trained for dual purposes. "Labs are amazing dogs," says Carleigh. "They have incredible sensory abilities, and are such good learners. Honey will be able to learn more than 60 daily commands that will allow her to interact with the family and help to keep Sophia safe. Once she's got that down, we'll move her into the vineyard to train her there."
"We're excited to be working with a sniffer dog again," says winery President and CEO Michael Honig. "Not only do we get to continue our very innovative work with canine pest detection in the vineyard, my daughter gets a furry new companion to help her navigate the world of Type 1 diabetes. What could be better than that?"
Press contact:
Stephanie Honig
stephanie@honigwine.com
Cell (917) 806-0836.
Visit Honig Vineyard and Winery​: 
​www.honigwine.com
Facebook: @HonigWine
​Instagram @honigwine
Twitter @honigwine
https://www.yelp.com/biz/honig-vineyard-and-winery-rutherford
Source: Honig Vineyard and Winery
Share:
---
Categories: Small Business, Food and Beverage Manufacturing, Community News, Wine, Family Travel, Endocrinology/Glandular Disorders, Family, Healthcare and Medical News
Tags: family, health, honey, Honig, innovative, napa, puppy, sauvignon, science, vineyard, wine, winery
---
Related Files
Additional Links