Extraordinary Napa Valley Party at Honig Vineyard and Winery
On August 9th, the Honig family will gather restaurants, vintners, athletes, officials and celebrities for a cause close to their hearts.
Press Release
-
updated: Aug 1, 2017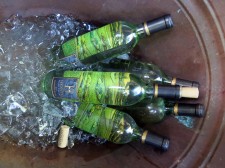 Rutherford, CA , May 25, 2017 (Newswire.com) - This August, Stephanie and Michael Honig, of Napa Valley's Honig Vineyard and Winery will host a unique party on their property in Rutherford, California to raise money for a non-profit diabetes organization called Beyond Type 1.  The party at Honig is just one stop on an epic, 10-week adventure for Team Bike Beyond, a cycling team comprised of 20 international riders living with Type 1 diabetes. As they pedal their way from New York City to San Francisco, they will spread the word about Type 1 while showing the world what it means to live Beyond Type 1. 
What: Event to raise money and awareness for Type 1 Diabetes 
When: Wednesday, August 9th at 6pm PST 
Where: Honig Vineyard and Winery, Rutherford, California 
Why: To educate, advocate and cure Type 1 diabetes
Musician Nick Jonas, Juliet de Baubigny, Sarah Lucas and Sam Talbot founded Beyond Type 1 in 2015. 100% of every dollar raised directly supports the most promising global efforts and programs working to educate, advocate and cure Type 1 diabetes.
Type 1, which affects more than 420 million people globally (source Beyond Type 1 website), is an autoimmune disease that can happen to anyone, can present at any age, and is not related to diet or lifestyle. The Honig's oldest daughter, Sophia, who recently turned 10, was diagnosed with Type 1 at the age of 5, changing the family dynamic forever.  "No parent should ever be told that their child has a life threatening, incurable disease.  We will continue to do everything in our power until a cure is found". says Stephanie Honig 
The Napa Valley community is rallying to support the Honig's efforts.  "Type 1 diabetes can be a devastating, even life-threatening diagnosis for kids. We should do everything we can to find a cure. The Honigs have been tireless advocates for Sophia and the millions of other children and families living with Type 1 diabetes. Their efforts are more important than ever as federal funding for medical research comes under attack. I am truly proud to work with them and everyone at Beyond Type 1 as we keep pushing for a cure." says Congressman Mike Thompson.  Sponsors of this event include Darioush, Trinchero Family Estates, Breakthrough Beverage Group, Chuck Wagner from Caymus Family Wines, David Drucker from Empire Merchants, St Helena Hospital, The Rudd Foundation, American AgCredit, Jelly Belly Candy Company, Jamie Kurtzig and Family, Nomacorc/Vinventions.  On the afternoon of the event, the Napa County sheriff department, along with county officials, will escort and welcome the 20 bike riders into Napa County.  
Some of the sponsors include Darioush Winery, Chuck Wagner from Caymus Vineyards, Nadalie USA Cooperage, St Helena Hospital, The Rudd Foundation, Trinchero Family Estates, The Winebow Group, Breakthru Beverages, Empire Merchants, Jelly Belly Company, American Ag Credit, Normacorc and others. 13 local restaurants will be hosting food stations: Brasswood Napa Valley, Brix Restaurant and Gardens, Harvest Table by Charlie Palmer, The Cliff Family's Bruschetteria, Crisp Kitchen and Juice, Elaine Bell Catering, Kara's Cupcakes; Heritage Eats, Model Bakery, Mustards Grill, Oakville Grocery, Prabh Indian Kitchen and Salute Sante.
Wine will be provided by Honig Vineyard and Winery, Beran, C. Beck Winery, Dutch Henry, Jordan Estate, Luna Vineyards, St. Supery Estate, Schramsberg, Vineyard 29, Volker Eisle Family Estates, with cocktails from Charbay Distillery and beer from Mad Fritz . Music for the event will be provided by Groovetronix Productions and equipment and design is provided by Bright Party Rentals.  There are surprises and some very special silent auction items also!
This is one more example of the Napa Valley community coming together to support the greater good and one of their own. 
For more information about the event please contact stephanie@honigwine.com or visit:
 https://donate.beyondtype1.org/rutherford/events/bike-beyond-napa/e125195
Press Contact
​Stephanie J. Honig, DWS
Office: (707) 963-5618 ext 396
Cell: (917) 806-0836
Source: Honig Vineyard and Winery
Share:
---
Categories: Celebrities, Non Profit, Food and Beverage Services, Hospitality, Travel, Wine, Conventions, Trade Shows, Meetings and Events, Lifestyles and Society
Tags: celebrity, children, community, cure, diabetes, family, health, Honig, money, music, non-profit, party, restaurants, wine
---