William and Mary Pamela Schaefer's New Book 'Historic Churches in Texas' Unravels a Truly Wonderful Discovery of Church History
Recent release 'Historic Churches in Texas' from Covenant Books authors William and Mary Pamela Schaefer is a fascinating compilation that preserves the historic churches in Texas through documenting them and sharing their stories.
Press Release
-
updated: Oct 16, 2020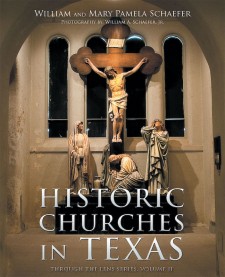 HOUSTON, October 16, 2020 (Newswire.com) - ​William and Mary Pamela Schaefer, a couple who are now retired and traveled extensively across the world; have completed their new book, "Historic Churches in Texas": a brilliant account filled with photographs and backgrounds of over a hundred churches that carry their own history.
William and Mary write, "Before independence from Mexico in 1836, the Catholic faith was the only religion settlers in Texas, known as Texians, could legally practice. To acquire land in Texas, then a part of Mexico known as Coahuila y Tejas, one had to be a member of the Roman Catholic Church or agree to convert to Catholicism. Although a few Protestant church buildings were erected before Texas's independence in 1836, most were erected after 1836 because of Mexico's strict laws prohibiting and often severe punishment for practicing any faith other than Catholicism. The few Protestant church buildings that were erected prior to Texas independence were usually erected along the margins of Texas in the more remote regions of North and East Texas, distancing themselves from Mexico's center of government in San Antonio.
The first Protestant church established in Texas that has been in continuous service was organized by the Reverend Milton Estill in 1833 as the Cumberland Presbyterian Church in Old Shiloh, a small community located about four miles north of Clarksville. In 1848, the Shiloh Cumberland Presbyterian Congregation joined with the Presbyterian congregation in Clarksville to become the First Presbyterian Church, Clarksville. The First Presbyterian Congregation in Clarksville is recognized as the oldest Protestant church in continuous service in the state of Texas.
After Texians won their independence in 1836, religious congregations began to meet openly and to build houses of worship. Most of these early church buildings were poorly built and did not survive the ravages of time. Eventually, stronger buildings were erected. But even then, with open fireplaces and wood-burning stoves providing heat and candles or kerosene lanterns providing the primary source of light, church buildings were often destroyed by accidental fires. In addition, with time, congregations often outgrew their vintage church buildings or could no longer afford the high cost of maintaining the older, outdated buildings. As a result, congregations abandoned them to erect larger and often more elaborate edifices. Once abandoned, the old church buildings were razed or, if left standing, rapidly deteriorated.
Over the past twelve years, my wife and I have visited and photographed almost one thousand historic churches in Texas. Photographing these historic church buildings and learning about the pioneers that often at great risk founded and maintained them has been a project of love. Visiting these historic churches and meeting the people that maintain them today has been inspirational."
Published by Covenant Books of Murrells Inlet, South Carolina, William and Mary Pamela Schaefer's new book is a captivating documentation of 172 churches that will help preserve their history. This book is the second volume of the authors' Through the Lens Series and they hope that many will take special interest in these Texan historic sites.
Readers can purchase "Historic Churches in Texas" at bookstores everywhere, or online at the Apple iTunes store, Amazon, or Barnes and Noble.
Covenant Books is an international Christian owned and operated publishing house based in Murrells Inlet, South Carolina. Covenant Books specializes in all genres of work which appeal to the Christian market. For additional information or media inquiries, contact Covenant Books at 843-507-8373.
Source: Covenant Books
Share:
---
Categories: Books
Tags: "Historic Churches in Texas", Covenant Books, William and Mary Pamela Schaefer
---