Wicresoft Recognized as 2019 Microsoft Partner of the Year
Press Release
•
updated: Jun 6, 2019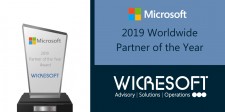 BELLEVUE, Wash., June 6, 2019 (Newswire.com) - Wicresoft today announced it has won the 2019 Microsoft Project and Portfolio Management Partner of the Year Award. The company was honored among a global field of top Microsoft partners for demonstrating excellence in innovation and implementation of customer solutions based on Microsoft technology.
"All of us at Wicresoft are extraordinarily proud of the recognition by Microsoft as Partner of the Year for 2019. We are delighted that every member of our team is honored by the distinction of this global award and humbled by our team's work ethic, ambition, and execution built on the trust bestowed upon us by our customers." –Joe Zarrehparvar, CEO
"We are proud to accept this Partner of the Year award from Microsoft. It is an achievement that highlights our depth of expertise, cutting-edge innovation and significant value that we jointly deliver to organizations as they digitally transform." –Joe Larscheid, Vice President
Awards were presented in several categories, with winners chosen from a set of more than 2,900 entrants from 115 countries worldwide. Wicresoft was recognized for providing outstanding solutions and services in Project and Portfolio Management. The Project and Portfolio Management Partner of the Year Award distinguishes an exceptional partner who has excelled in offering breakthrough solutions that extend or integrate the Microsoft Project and Portfolio Management solution.
"It's an honor to recognize finalists and winners of the Microsoft 2019 Partner of the Year Awards," said Gavriella Schuster, Corporate Vice President, One Commercial Partner, Microsoft Corp. "These companies are successfully leading their industries, building intelligent solutions, addressing complex business challenges and making more possible for customers around the world. I'm honored to congratulate each winner and finalist."
The Microsoft Partner of the Year Awards recognize Microsoft partners that have developed and delivered exceptional Microsoft-based solutions during the past year.
Wicresoft offers consulting services, managed delivery, IT staffing and a robust portfolio of PPM solutions and services throughout North America and around the globe with offices in Canada, China, Japan, Europe, and Australia. With more than 6,500 employees, Wicresoft serves many of the largest Fortune 500 companies. The company formed in 2002 as a joint venture with Microsoft. Today, Wicresoft North America offices are in Bellevue, WA (HQ), Redmond, San Diego, Chicago, and Dallas with staff located throughout the U.S. and Canada.
For additional information:
For more info, visit http://us.wicresoft.com or contact us today.
Direct press inquiries to Katie Hayward at khayward@wicresoft.com.
Product or service names mentioned herein may be the trademarks of their respective owners.
Source: Wicresoft