In It Together - Free OnePlan Solution for a Rapidly Changing World
Press Release
•
updated: Apr 13, 2020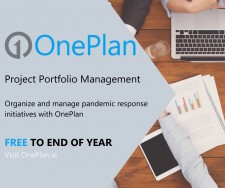 SEATTLE, April 13, 2020 (Newswire.com) - ​​​​As we all work to overcome the COVID-19 Pandemic that is changing all of our lives, we desire to find some way to help.
OnePlan honors our brave and courageous front line first responders, healthcare workers, and essential business workers. We greatly appreciate the hard work and risk so many in our society are facing to provide care to those who are sick and to keep life moving as best as it can.
Inspired by those meeting the call to help, we challenged ourselves to find a way to leverage our skills, products, tools, and knowledge to help in any way possible. After reflecting on what we learned from clients who faced other challenging situations, some common themes, and needs emerged. With this knowledge, we decided to create a free PPM solution that provides:
A means to capture relevant project information in a single location within a common framework and context
The capability to quickly prioritize and re-prioritize work as the situation evolves
An ability to consistently and continually capture the status of key initiatives to enable timely decisions
Support in setting up your solution to capture and status key initiatives
Free OnePlan Solution for Re-prioritizing Initiatives and Investments In a Rapidly Changing World
The OnePlan Portfolio Plan solution will provide organizations with a robust Project Portfolio Management solution for organizing and managing their Pandemic response initiatives for free until the end of the year (12/31/2020).
Here is more of what OnePlan Portfolio will provide:
Strategic Planning Realize your Strategy: Translate high-level missions and objectives into specific investments necessary to make strategy real across departments and geographies.​
Program Management: Leverage program management to deliver strategic initiatives. Reach across traditional organizational and geographic silos.​
Investment Prioritization: Rank and analyze investments by business drivers. Create an optimized portfolio to drive strategic success.​
Portfolio Boards: Visually manage work using Kanban boards with the flexibility to easily model any workflow process, regardless of complexity​
​Portfolio Roadmaps: Build roadmaps that connect strategy, investments, projects, and resources. Ensure the organization is on track to deliver products, technology, and applications.​
Socialize on Work: Empower teams to execute with agility with tools they are already using. Connect with work management applications such as Microsoft Project for social work collaboration.​
Improve collaboration across distributed teams for increased productivity: Personalize the work experience for your team members by leveraging Microsoft Teams. Microsoft Teams is the hub for team collaboration in Office 365 that integrates the people, content.
We are all in this together, and Microsoft, OnePlan, and Wicresoft wanted to make you aware of this special offer to help organizations get through this rapidly changing time.
About Microsoft: Microsoft enables digital transformation for the era of an intelligent cloud and an intelligent edge. Its mission is to empower every person and every organization on the planet to achieve more.
About OnePlan: OnePlan offers a strategic portfolio, financial and resource management solution that fits the needs of every department in the organization. Optimize your portfolio, financials, and resources enterprise-wide. Connect OnePlan with Microsoft Project, Office 365 Planner, Azure DevOps, Jira, and more for a complete view into all work across the enterprise.
About Wicresoft: Wicresoft offers consulting services, managed delivery, IT staffing, cloud services, and a robust portfolio of PPM solutions and services throughout North America and around the globe with offices in Canada, China, Japan, Europe, and Australia.
Source: Wicresoft