Why the Trucking Industry is Turning Toward Road Warrior Tires
Press Release
•
updated: Jul 17, 2018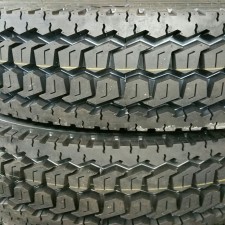 WATERTOWN, Mass., June 14, 2018 (Newswire.com) - ​What do long-haul truckers, construction companies and farmers have in common? They have discovered that Road Warrior Tires offer substantial savings that increase profits and improve the bottom line.
Road Warrior best-selling Truck Tires (11R22.5 and 11R24.5) are leading the way by offering a reliable, heavy tread at a substantial savings compared to almost every other premium brand sold.
The following highlights the differences and similarities to consider when choosing the next set of tires.
Tread
Road Warrior offers a deeper tread as well as treads that are designed specifically for different jobs. A deeper tread results in a more stable drive and more efficient turning. The right tread reduces wear and tear on the vehicle and increases overall operating efficiency. That's in addition to saving money up front on the purchase price.
Technology
Road Warrior tires are engineered using the latest German technology and manufactured according to strict quality control standards. These features allow shoppers to buy with confidence knowing that they will get the same quality product regardless of which model they need for their vehicles. Finding a product with high production standards takes the guesswork out of future purchase decisions. Buyers get the same quality year after year regardless of which type of tire they order.
Fuel Savings
We all heard the news … fuel costs are going up. How to maintain efficiency on the job and keep costs low? Make sure all machines are operating at maximum efficiency with minimum downtime. That means that every tire choice made has to be the smart choice. Road Warrior tires will save money because high-quality products result in less wear and tear, longer tread life and fewer blowouts on the job or on the road. Less downtime results in higher profitability.
Price Savings
Road Warrior Tires are less expensive up front than other tires but offer the same, if not better, quality than the higher priced brands. Spend wisely, but never at the expense of safety or quality. Road Warrior Tires offers savings and top quality.
About Road Warrior Tires
Road Warrior Tires is a premium manufacturer of heavy and light duty truck tires. With warehouses in New England, Texas and Washington State, we are able to get the right tire at the right price, delivered promptly to any preferred location. Call and speak to one of our sale representatives or visit us online to place an order.
To purchase tires, please visit TruckTiresInc.com.
295/75R22.5 315/80R22.5 245/70R19.5
Source: Road Warrior Tires
Related Media
Additional Links