What is FET? TRU Development Discusses FET and the Advantages of Buying Truck Tires That Include FET Tax
Press Release
•
updated: Oct 16, 2018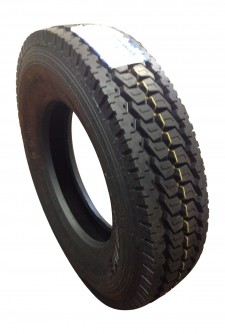 WATERTOWN, Mass., October 16, 2018 (Newswire.com) - TRU Development explains FET and discusses why it's better to buy truck tires that include FET tax.
What is FET?
FET is an acronym that simply stands for federal excise tax. In particular regard to truck tires, the FET is imposed on tires strictly manufactured for and used on the public roadways. The FET is levied typically against medium and heavy-duty truck/trailer tires with a maximum load capacity greater than 3,500 pounds. Details of how the tax is calculated can be found on the U.S. government website.
Any tires that are not used for road travel are exempt from this tax. These exemptions may include but are not limited to farm machinery, forestry vehicles, off-road vehicles, tractors or ATVs (all-terrain vehicles).
Why is FET in the news?
FET is in the news mostly because the U.S. is in the process of renegotiating trade arrangements with China. Part of this process involves reducing and/or raising taxes on certain products.
This affects truck tires to the extent that many companies own manufacturing facilitates in China or have their brands manufactured there.
If the taxes are increased, ultimately it affects the selling price of the tire, which is then passed on to the driver or transportation company.
FET taxes are unavoidable and until or unless the tire retailers and manufacturers can change the current tax rate, there is no way to know when the tax may change or how much it may increase.
FET and Road Warrior Tires
Road Warrior tires become an even better value.
When prices increase, the best strategy for managing lower costs is to get the best product for the best price. Road Warrior Tires are manufactured to the highest quality standards and backed by a 60,000-mile warranty. Road Warrior tires also provide customer service that goes above and beyond what can be expected from many online retailers. Thousands of customer reviews will tell customer service is more than lip service. When new tires for a truck or trailer are needed, it can make the decision easy. Pick the best quality at the best price with excellent service. Road Warrior Tires will do the rest.
TIRES AND SIZE
About Road Warrior Tires:
We started radial truck tire production in 1998 and reached an annual production capacity of six million units in 2013. Quality is assured by use of advanced equipment and technology from Germany, merged with first-class raw materials from Malaysia and strict quality control and production management. We successfully sell our tires in 92 countries worldwide and enjoy a reputation for excellent product and stellar customer service.
DAVE ABOT - dabotbool@aol.com
617-926-5707
Source: TRU Development Inc.
Related Media
Additional Links