Why People Need a Car DVR in a Trip
Press Release
•
updated: Sep 10, 2015
Have a car DVR is really useful, considering both safety and fun for a trip,by using the car DVR, the owners have it all on tape- no one can say that the owner was guilty of causing the accident, as he has proof to support his point of view.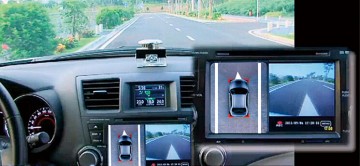 shenzhen, China, September 10, 2015 (Newswire.com) - Surely people must have heard of the car DVR- the video camera for car. Besides the fact that the car DVR has many uses for the purpose of sole amusement, it is also extremely useful in a bunch of different situations. Therefore, people may call the car DVR as one of those important car accessories that it's highly recommendable to keep around. There are several reasons for purchasing a car DVR and newfrog.com lists them in this article.
Talking about a particular situation, the car DVR is especially helpful in trips. Such a camera can be very useful in everyday situations as well, yet it's features are best exploited when people are away, taking a trip to… wherever.
So, let's say people are going to a trip and got it all planned- meals, accommodation, gas money, luggage, the places that are to be visited and so on. But there is always a part that people can't predict- there is always a chance that something unpredictable intervenes into a perfectly planned schedule. Take as an example a car crash. It is perfectly possible- even if people are driving safely it can happen that someone simply scratches their car. The owners might be in another state, country or even on other continents. The owners may know who exactly is the one who caused the accident, but how can someone prove his innocence? Now, this is not a very pleasant situation to imagine, but it can happen- especially if the owners are from another country and they're not used to the driving habits of other places.
This is a very good example of a situation where a Car DVR Camera is most useful. First of all, by using the car DVR, the owners have it all on tape- no one can say that the owner was guilty of causing the accident, as he has proof to support his point of view.
Many similar situations can occur when people are in a trip. As well, among the safety uses of the DVR camera the owners can count identifying thieves.
When the owner goes to another country, thieves might be really tempted of stealing the car for example, which is obviously registered abroad- this can turn the car into an easy target. Let's say that the owner does have bad luck and his car is attacked- it's not stolen, but valuable objects disappear from it. Most often objects stolen abroad are not recovered, due to insufficient data. But if the owner does have a car DVR and leaves it on, the owner can get some sort of a surveillance system that might give you and the police the right amount of information in order to recover the missing objects. A car DVR is a plus in these situations, no matter what.
Now, those were the bad situations of robbery and crashes where the DVR camera can fully prove its usefulness. Yet, there are happier situations when a DVR can be a perfect partner for trips.
Maybe people have seen the amazing Car DVR Camera videos on Youtube- they are kind of a trend lately. If people enjoy making videos or just creating awesome memories from their trips, a car DVR might be exactly what their need.
Car owners can record their journey and add comments and impressions about it while filming. Not many people have such an original home-made movie collection, right?
A car DVR can be their very own way of re-creating Kerouac's on the road from their journey's perspective. This should be fun.
Therefore, having a car DVR is really useful, considering both safety and fun.
The car owner gets his justice made in a matter of seconds and other people get awesome trip videos to pile up to their home video collection, just by this simple addition- a DVR camera.
So, Newfrog.com hopes this answered the question of why people need a DVR camera for their trip. These are the benefits of owning a DVR camera. Now, before you purchase one, make sure you balance the benefits and the disadvantages well and that you purchase something that fits your needs.
As well, when you do purchase something, make sure it is suitable for your type of car and for your budget.
If you go on newfrog.com, you'll find a varied gamma of Car DVR Cameras at prices that suit each and every budget.
While at a normal shop a car DVR can be purchased for an average of $40, if you surf newfrog.com, you will be able to find better prices for one. For example, a 2.5 inch display car DVR can be purchased for just $24 on newfrog.com. Yet, if you wish to buy something more professional, the prices can go up to $100. Seriously consider the reasons for which you need a car DVR before purchasing- do you want awesome trip videos for which you need a HD camera, or do you simply want something to assure your safety while driving?
Related Media