Top Heart Rate Monitor: NO.1 G3 Bluetooth 4.0 Smart Watch
Press Release
•
Apr 19, 2016
NO.1 G3 Bluetooth 4.0 Smart Watch Phone MTK2502 SIM Smartwatch Heart Rate Monitor Fitness Tracker Siri Call SMS Reminder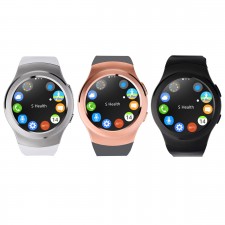 shenzhen, April 19, 2016 (Newswire.com) - No.1 G3 Smartwatch – Who, what, and why
If a company is going to refer to itself as No. 1 it had better be good and as much as the name seems a little over the top, No. 1 actually has a string of quality releases (D3 and D5 smartwatches) behind it to back up the name. Now with the release of their G3 smartwatch they elevate their game with a product that seems to do practically everything. It's shocking in fact that this watch can do so much for the price. It goes to show that much of what consumers pay for is related to brand image rather than performance. Here a G3 is run through its paces and the results of this Samsung clone are quite surprising.
Design and Chassis
It's clear from the design that No.1 is taking aim at the Samsung Gear 2 and it follows that the body of the watch is stainless steel and the watch face is round. In contrast to Samsung however the screen is a full round without the curious cut off bottom of its competitor. Using one of the many offered custom watch faces on the digital screen the No.1 G3 smartwatch appears at first glance like a high quality traditional watch, something that will be appreciated by many who don't like the boxy or square shapes of other smartwatches and prefer a traditional timepiece look. The design is waterproof and shockproof which is essential for its activity tracking functions.
The stainless body has a nice anti-smudge texture available in silver, gold, or black with silicone straps in white, grey, and black respectively. The multiple color choices are a nice touch and overall the slim and lightweight appearance is pleasing for both men and women.
Display&Touchscreen
Featuring a full-round display with a 1.3 inch IPS capacitive touch screen is an immediate improvement over Samsung and at 240x240 resolution the icons and information displayed is clear and bright. Even in outdoor light the display is effective. The touchscreen is used for most functions along with two side buttons reserved for certain functions. There are several traditional style faces to choose from that are in the classic style and the watch switches easily between time and apps and alerts. Another interesting feature is the ability to use personal photos as a background for the watch face creating a truly customizable look.
Hardware & Connectivity
The No.1 G3 smartwatch is equipped with a quality MTK2502 chipset and 64MB RAM + 128MB ROM + 16GB TF Card extension for plenty of processing power for its full-featured operating system. This watch and OS manage to accomplish a lot with phone alerts, weather, calls, activity tracking and more.
In addition to delivering messages, and social media alerts, the G3 supports a Micro SIM and 2G, GSM850/900/1800/1900MHz connectivity for making and taking calls with its built in microphone. Message alerts also work over Bluetooth 4.0 and are iOS and Android compatible and take advantage of the built-in vibration motor for a silent alert option.
Battery
The on-board 380mAh makes sure that the G3 is ready and running and it has admirable power with daily use covered as well as standby time up to about 50 hours. Nightly charging is simple using the included USB cable.
Applications and Features
It might actually be easier to list what the G3 won't do! This watch does it all. It is one of the most full-featured watches on the market and simply incredible in its many applications. Below are the most useful features.
Activity tracking: Having an advanced activity tracker is extremely useful and helps build healthy habits easily. The G3 is no exception performing pedometer functions, activity frequency tracking, calorie counting and even built-in heart rate monitoring and health challenges.
Multimedia: Although it doesn't include a camera the G3 can remotely control a phone camera and handles images and videos with ease and includes a MP3 player for music as well as entertainment.
Sleep Monitor & Alarm: Track sleep quality and time for a better night's rest.
Weather: Up to date accurate weather updates as well as thermometer function.
Baidu Voice Control: This is No.1's version of Siri, both unexpected at this price and useful.
Other features: Include Calculator, Calendar, Contacts, and Sound Recorder, and Game Controller function.
What's the bottom line?
Honestly, if the specs and features aren't impressive enough the price will simply amaze. At less than $70 USD there simply isn't a competing product that can match the No.1 G3 smartwatch. It looks fantastic, has the build quality of watches that cost much more, and the feature set is complete. No1. is really living up to its name and this is one of the best value priced smartwatches on the market. For those who have been wanting to get into a smartwatch but have been put off by the high prices of Apple and Samsung, the answer has arrived.
Summary: No.1 lives up to its name with the release of one of the best watches on the market, the No.1 G3 smartwatch.
Source: Newfrog
Related Media