$78.89 Android 5.1 Phablet: 8" Teclast P80 3G Phablet
Press Release
•
Apr 20, 2016
Teclast P80 3G 8 Inch Android 5.1 Phablet with WXGA IPS Screen Quad Core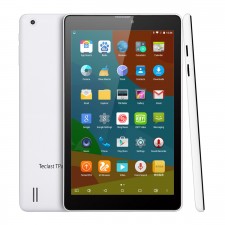 shenzhen, April 20, 2016 (Newswire.com) - Teclast P80 First impressions
Teclast, a well-known Chinese tablet manufacturer may not be a household name in the rest of the world but with a string of quality product releases and affordable prices, they stand to make a name for themselves soon. One of their newest releases, the Teclast P80 3G Android Phone Tablet is a smart looking choice for those looking for an affordable 8 inch tablet suitable gaming, multimedia, apps, and mobile network support for phone calls.
Design and Chassis
The design is sleek and slim, white in color with a smooth case and rounded corners. It looks quite like another common tablet brand that costs much more. The corners are rounded and the tablet is reasonably thin at only 8.9mm. The edges are even thinner at 5mm giving an overall slimmer appearance and clean look. The tablet weighs in at 368gyet is very comfortable to hold in one hand.
Display& Camera
Interestingly this tablet uses an uncommon 16:10 screen ration in contrast to most 19:9 or 4:3 ratios found on most tablets. The result is an 8-inch high definition WXGA IPS 1280 x 800 display that is absolutely gorgeous and great for video and gaming. The screen has a 178 degree viewing angle that is super handy when watching video from nearly any angle. The output from the Mali-400 MP GPU renders graphics in a stunning manner. Gamers and movie watchers will rejoice at the crisp, bright, colors and high definition video. For entertainment and multimedia the device can support a number of formats including WMA, MP3, AAC, 3GP, MP4, AVI and others.
The Teclast P80 has a 3MP camera on the backside and there's a 2MP camera up front. Serious photogs will not be impressed with this camera array but consider that the P80 camera gear is mainly used for telephone calls, selfies and document capture and it's acceptable at this price point.
Hardware & Connectivity
Equipped with the new Intel SoFIA C3230 quad-core processor the Teclast P80 tablet delivers reliable performance for daily multimedia and entertainment tasks and simple graphics editing or other common applications. Using its 1GB of DDR3 RAM to power the Android 5.1 operating system, the tablet is more than capable to handle virtually any app without lag. The P80 comes equipped with 8GB of ROM internal storage but memory hogs will be happy to use up to 32GB of TF extended storage.
In addition to the usual WIFI802.11 b/g/n standard, this tablet also has Bluetooth 4.0 capability for super-fast data transmission and can support phone calls on 3G WCDMA 2100 MHz + GSM 850/900/1800/1900MHz with its built-in telephone receiver making it a true phablet!
Battery
The on-board 4000mAh battery is solid and capable for extended app use and several hours of video playback. When tested with multiple apps, various gaming and video watching as well as benchmark testing the P80 3G delivered a solid day's use before requiring recharging.
Extras and other features
A few nice features include headphones jack, micro USB 2.0, GPS with A-GPS support, Bluetooth 4.0, multi-language supports and Wireless LAN with Hotspot support. It also sports a G Sensor and Light Sensor for automatic display brightness adjustment and has preloaded apps such as Google Search, Browser, E-mail, Camera, and Maps.
In the box
Charger, cable, and tablet just the basics but at this price who cares!
What's the bottom line?
There are more powerful tablets on the market and some with more well-known names but if price is a concern and value is paramount, the Teclast P80 is one of the most affordable and well-equipped 8 inch tablets around. The 3G function and telephone capability is an added bonus that puts this tablet over the top in value. It is consistently offered at under $80-$90 dollars and for that price it's quite hard to beat.
Summary: Teclast makes a name for itself with the interesting and useful P80 3G 8 inch Android tablet with telephone capability. A detailed review of one of the best new tablets on the market.
Source: Newfrog
Related Media