Wheelsys and Rate-Highway Partner to Deliver Real-Time Competitive Car Rental Rates
Press Release
•
Dec 22, 2021
Collaboration Ensures Clients Deliver the Best Value and Optimize Revenue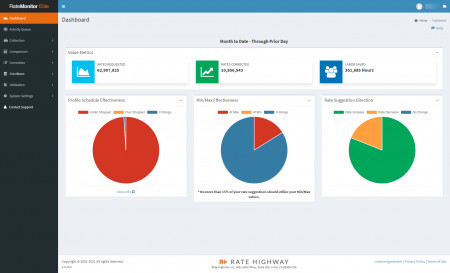 IRVINE, Calif., December 22, 2021 (Newswire.com) - Rate-Highway, Inc, the original and proven world leader in car rental revenue optimization, and Wheelsys, the makers of Wheels Car Rental System (Wheels), today announced a partnership that offers a real-time, two-way integration between both companies' systems, ensuring the most accurate pricing in real-time and the ability to effortlessly navigate changes in demand. This collaboration helps keep clients' rates competitive while still maximizing revenue.
"We are continuously investing in our research and development to provide customers with the tools they need to increase their end-to-end performance in the rental chain," said Vassilis Devletoglou, CEO and founder of Wheelsys. "Rate-Highway has always been on the forefront of innovation in car rental revenue management. Having been in the industry the longest, it gives them the natural advantage when it comes to solving the problems our operator clients face. We liked the idea of working together to help our operators grow, and with data provided from the Wheels backend, they can make smarter pricing decisions that really increase revenue."
"We help rental companies who want to perform better and are often unable to keep up with the growing demands of revenue management," said Michael Meyer, President and co-founder of Rate-Highway. "The day-to-day power of Wheels ERP combined with Rate-Highway's revenue optimization abilities transform customers from trying to keep up with their competitors into market revenue leaders. Working together we build better operations, which builds better brands".
About Rate-Highway
The original and proven world leader in car rental revenue optimization since 2002, Rate-Highway has helped more brands grow to prominence in the U.S. than any other car rental technology company. Rate-Highway's proprietary technology offers the first real-time business intelligence tools for monitoring Web and Global Distribution System (GDS) pricing information. Rate-Monitor analyzes competitor rate information, and based on custom criteria, automatically adjusts GDS, Internet and reservation system rates based on rules specified by the client. https://www.ratehighway.com/

About Wheelsys
Wheelsys is the company behind the Wheels Car Rental System, a modern and feature-rich SaaS auto rental management platform. Since its beginning more than 20 years ago, "Wheels" has become the system of choice for major brand licensees, franchise systems, independent operators, and fleet owners looking to maximize fleet utilization and centrally manage and distribute rates across partner channels (GDS, OTA, etc.). The company is known for live expert help, next generation features, and operator-friendly pricing. Headquartered in Athens Greece, Wheelsys announced its Boston, Massachusetts-based sales and support team and ramped up U.S. efforts earlier this year. https://wheelsys.com/
Press Contact:
Liz Erk
Rate-Highway
(781) 279-0370
liz@jaxsongroup.com
Source: Rate-Highway, Inc.