What if Your Celebrity Crush Helped You Get Over a Break-Up? Vision Films Presents 'For the Love of George'
Can your celebrity crush help you get over a breakup? Join Nadia Jordan in the uplifting and spirited comedy, 'For The Love of George' available everywhere on VOD/DVD from Vision Films, Feb. 13.
Press Release
-
updated: Feb 6, 2018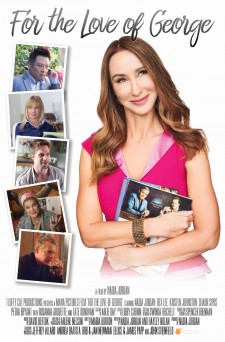 HOLLYWOOD, Calif., February 6, 2018 (Newswire.com) - Vision Films and Fluffy Cat Productions are proud to announce the release of the charming romantic comedy, For the Love of George. Directed by Maria Burton and written by Nadia Jordan and Hayley Nolan, this film is released right in time for Valentine's Day and is the perfect reminder that happiness is not dependent on finding the perfect man...even if that man is George Clooney!
Starring Nadia Jordan (Beyond Therapy, Cold Empty Hearts), Rex Lee (Entourage, Young & Hungry), Rosanna Arquette (Pulp Fiction, The Whole Nine Yards), Tate Donavon (Argo, The O.C.), Kristen Johnston (3rd Rock From The Sun, Austin Powers: The Spy Who Shagged Me), Ruth Connell (Supernatural, Hara Kiri), Marina Sirtis (Star Trek: First Contact, Star Trek: Generations), Shaun Sipos (The Vampire Diaries, Krypton), Ben Gleib (Ice Age: Continental Drift, The Book of Life), Paul Provenza (Northern Exposure, The West Wing) and Henry Hereford (Legends of Tomorrow, X-Men: First Class), For The Love of George has made an impact on the festival circuit receiving several nominations and awards, including the coveted Audience Choice Award at the Chicago Comedy Film Festival.
The film will have its exclusive red carpet screening prior to release on Monday, Feb. 12 at the Chinese Theater in Hollywood at 7:30 p.m. Cast and crew including Nadia Jordan, Ruth Connell, Marina Sirtis, Ben Gleib, Paul Provenza, Henry Hereford and Rex Lee will be in attendance.
For the Love of George will be available Feb. 13 on Digital for an SRP $4.99 - $9.99 Rent or Buy across all platforms and to Buy on DVD for $14.95.
Set in 2014, Poppy Wakefield's (Nadia Jordan) life is shattered when she finds out her husband Stephen (Henry Hereford) is having an affair. When she receives a well-timed invitation to visit her friend Justin (Rex Lee) in Los Angeles, she takes off on a quest hoping to cross paths with who she believes is the perfect man – George Clooney! Through a series of close encounters with Clooney, funny adventures and the odd emotional breakdown, Poppy learns to navigate her future without needing a man – no matter how seemingly perfect!
"As well as paying tribute to the ever charming Mr. Clooney, the story has a female empowerment theme which is both timely and relevant given the strength women are showing across the world right now," said the star of the film and producer Nadia Jordan, who co-wrote the screenplay with Hayley Nolan. "And with the current gender equality discussions that are taking place in the entertainment industry, it was important to me to enlist as many talented women as I could, both in front of and behind the camera."
Jordan credits the unique indie rom-com feature as being inspired by George Clooney and his humanitarian work. "The inspiration to write the screenplay came after reading Don Cheadle and John Prendergast͛s book "Not on Our Watch", which suggests readers get creative with ways in which to spread the charity's mission. I wanted to make something fun and lighthearted yet would still raise awareness for the charity".
Because of this inspiration, a portion of the proceeds generated by For The Love of George will also be donated to the George Clooney supported non-profit the Enough Project EnoughProject
"For the Love of George is a charming film that is a must see this Valentine's Day", says Vision Films CEO Lise Romanoff. "It reminds us that it is often the journey that matters, not the end result. Poppy's journey of self-discovering is entertaining, often hilarious and relatable!"
Follow 'For The Love of George':
Official Site: https://www.fortheloveofgeorgemovie.com/
Facebook: https://www.facebook.com/ForTheLoveOfGeorgemovie/
Instagram: https://www.instagram.com/fortheloveofgeorgemovie/
Twitter" https://twitter.com/4loveofgeorge
Pre-order For the Love of George
iTunes: http://bit.ly/FLG-iTunes
ABOUT VISION FILMS:
Vision Films is an independent, worldwide distributor and VOD aggregator of over 800 Feature Films, Documentaries and Music Programs from some of the most prolific independent film producers in the world.   Led by Lise Romanoff, Managing Director/CEO Worldwide Distribution, Vision Films releases 2-4 films a month, across Theatrical, VOD, DVD, and television.  www.visionfilms.net
ABOUT FLUFFY CAT PRODUCTIONS
Founded in 2010 by CEO Nadia Jordan, Fluffy Cat Productions is an award-winning film and television production company with offices in Los Angeles and London.
We are excited to present For the Love of George for review, and editorial inclusion. Review links are available; request yours today!  
PRESS CONTACTS:
Nicole Newton-Plater
For Vision Films
Nicole@ppmg.info
310-860-7774
Source: Vision Films
Share:
---
Categories: Celebrities, Movies, Arts and Entertainment
Tags: best Valentine's movies, breaking news, cinema, film, Galentine's Day, girl's night out, hollywood, latest news, los angeles, romance, Valentine's Day, womens rights
---