What Was the True Inspiration Behind the Great American Novel 'The Great Gatsby'? Vision Films Proudly Presents the Documentary That is Set to Send Shock Waves Through the Literary World - GATSBY in CONNECTICUT: THE UNTOLD STORY
Press Release
•
updated: Aug 11, 2020
Featuring Sam Waterston, 'Gatsby in Connecticut: The Untold Story' will be available on DVD and VOD on Sept. 1, 2020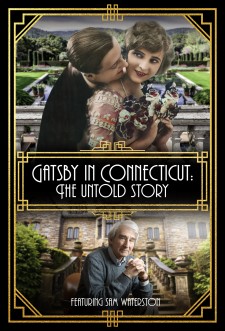 LOS ANGELES, August 11, 2020 (Newswire.com) - ​Who was the real Jay Gatsby? Could the inspiration behind F. Scott Fitzgerald's literary masterpiece "The Great Gatsby" be found not in Long Island, New York, as has long been believed, but in Westport, Connecticut? Presented by Vision Films and Against The Grain Productions, Robert Steven Williams' Gatsby in Connecticut: The Untold Story challenges everything literary scholars have known about the story behind the classic novel with astonishing new evidence and in-depth interviews. Featuring Sam Waterston (1974's The Great Gatsby, Law & Order, Grace and Frankie) and narrated by Keir Dullea (2001: A Space Odyssey, The Good Shepherd), Gatsby in Connecticut: The Untold Story will be available on DVD and streaming platforms on Sept. 1, 2020.
Watch the trailer: https://youtu.be/dt4rO-amUOc
Gatsby in Connecticut: The Untold Story was inspired by the 1996 New Yorker article by Barbara Probst Solomon, which unveiled her theory that the West Egg in Fitzgerald's "The Great Gatsby" was not based on an actual place in Long Island, but rather Westport in Connecticut which held a special place in Scott and Zelda's hearts. With this revelation, it seems as though the question of who the real Jay Gatsby was could finally be answered and the true eccentric millionaire behind the parties is just as intriguing as Fitzgerald's hero. Williams' film has shone a light on Probst's article and with his extraordinary research and astounding discoveries has convinced and astounded Fitzgerald fans and scholars. Scott and Zelda's granddaughter Bobbie Lanahan, who also features in the film, is included in those who have been amazed at the findings.
Legendary actor Sam Waterston, who portrayed Nick Carraway in 1974's The Great Gatsby, says "This film does an excellent job of capturing an important aspect of Westport's literary history and it helps to establish the town's rightful place in Fitzgerald's legacy."
Synopsis
The untold story of the summer Scott and Zelda Fitzgerald lived in Connecticut, which inspired one of the world's most beloved novels: "The Great Gatsby." Everyone knows the book, the films, and series, but who knows the truth? Track down the mystery millionaire who threw extravagant parties, uncover new evidence of the location and players, and dig deep to discover the real-life Jay Gatsby himself.
Gatsby in Connecticut: The Untold Story will be available on Sept. 1, 2020, on DVD from all major online retailers and on digital for an SRP of $4.99-$9.99 from platforms including iTunes, Vudu, Google Play, Xbox, Amazon, and FandangoNow, as well as cable affiliates everywhere.
Website: https://gatsbyinct.com/
Facebook: https://www.facebook.com/GatsbyinCt
​Twitter:https://twitter.com/GatsbyinCT​
Source: Vision Films