Terror Takes To The Skies In Vision Films' New Action Thriller 'S.O.S. SURVIVE OR SACRIFICE'
Press Release
•
updated: Oct 13, 2020
Starring William Baldwin and directed by Roman Doronin, the heart-stopping 'S.O.S. Survive and Sacrifice' will be available October 27, 2020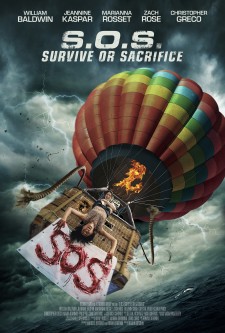 HOLLYWOOD, Calif., October 13, 2020 (Newswire.com) - ​Vision Films is proud to present "S.O.S Survive or Sacrifice," a thrilling new film that takes action to terrifying new heights. Starring William Baldwin (Backdraft, Fair Game), Roman Doronin's new film is a spectacular, action-packed survival story that takes place on a hot air balloon ride that turns horrific, yet shines a light on the strength and resilience of the women who find themselves in a seemingly impossible situation. Filmed on the stunning island of Cyprus, 'S.O.S Survive or Sacrifice' releases across all major VOD services in North America on October 27, 2020, including iTunes, Vudu, Google Play, Xbox, Amazon, and FandangoNow, as well as cable affiliates everywhere. DVD will be available online through all major retailers on November 17th, 2020.
A truly international team of actors and filmmakers joined the production from multiple European nations, the UK, Russia, and the USA, bringing unparalleled expertise to director Roman Doronin's vision.
Doronin shares, "Audiences are used to seeing special effects, and they're not easy to surprise or impress. That's why we decided to shoot our movie with the maximum amount of real conditions: no studios and using a real hot air balloon. We set up an open-air stage as we wanted the balloon to be seen actually flying above both land and sea. The basket was full-size with real burners that produced real flames, which blasted several meters high. From the very outset, we aimed to be as realistic as possible."
William Baldwin stars with Jeannine Kaspar (Iron Man, Freeheld), Marianna Rosset (Portrait of God), Zach Rose (Better Call Saul, Longmire), Diljohn Singh (Gold, London Confidential), Crystal Web (Ghosthunters, Strangulation) and introduces Kseniya Pinch.
When Kate (Jeannine Kaspar) and her 13-year old little sister Liz (Kseniya Pinch) are reunited on the Mediterranean island of Cyprus, Kate meets Myrianthy (Marianna Rosset) and a group of locals whom she agrees to an exciting ride in a hot air balloon with. The joyride takes a dangerous turn when it becomes untethered, and the passengers ascend without a pilot. Their cell phones out of range, and the balloon running out of gas, Kate and Myrianthy begin a desperate fight for their lives as the balloon is pushed out over the open ocean. Back on land, Liz has become an unwanted "material witness" to a robbery committed by Jack (William Baldwin), who happens to be Myrianthy's boyfriend. Matters take a dramatic twist, one that will mark their lives forever. While Liz may be their only hope of rescue, can she get to them in time?
"I am excited and proud to present our movie to film lovers all around the world," writer and director Roman Doronin continues, "our multinational cast and crew have created an exciting new adventure movie which will whisk you off on a thrilling journey to the far reaches of fear."
"S.O.S. Survive or Sacrifice is edge-of-your-seat action!" says Lise Romanoff, Managing Director/CEO Vision Films, "We are delighted to bring this heart-racing, hold-your-breath thriller to the world. It is sure to give everyone an adrenaline boost - something we all could use right now!"
Source: Vision Films
Related Media