What Emerging Technologies Could Impact the Construction Industry?
Futurist Jack Uldrich is in Winnipeg, Canada today for the first of two events this month to explore the future of the construction industry
Press Release
-
updated: Jan 16, 2018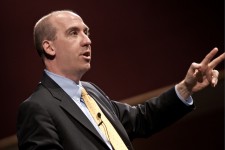 Winnipeg, Canada, January 16, 2018 (Newswire.com) - Best-selling author and trend expert Jack Uldrich is scheduled to speak at an event for BBE Hydro Constructors LP today in Winnipeg, Canada. On Thursday, January 25th, Uldrich will be in Salt Lake City, Utah for his second construction-oriented presentation this month. There, he will be speaking to Jacobsen Construction. In both presentations, Uldrich will be discussing his research and insights on the future of the construction industry, and how leaders in that industry can "future-proof" their businesses in a fast-changing world. 
Uldrich's keynotes will be focused on the game-changing technologies that will influence the construction and infrastructure industry in the coming years. These technologies include, nanotechnology, big data, drones, AI, the internet of things, 3D printing, blockchain, and robotics. Each of these is transforming the construction industry at an exponential pace, and Uldrich will explore the possibilities the future may hold for them, and what impacts they may have on how we design and build in the future.
According to Uldrich, "The faster we can recognize potential changes in technology, the better-prepared the construction industry will be in the long run." Everyone in the industry from ranging from architects to engineers to construction workers will need to increase their awareness of the advances in technology because at the end of the day these technologies will radically impact their future.
Each December, Uldrich compiles a list of annual predictions for the upcoming year. To see what other trends he thinks will be transformative in 2018, you can read his latest list here: Futurist Jack Uldrich's Annual Predictions for 2018
Jack Uldrich is the author of 11 books, including the award-winning bestsellers: The Next Big Thing is Really Small: How Nanotechnology Will Change the Future of Your Business and Jump the Curve: 50 Essential Strategies to Help Your Company Stay Ahead of Emerging Technology. His most recent book is Foresight 20/20: A Futurist Explores the Trends Transforming Tomorrow.
Parties interested in learning more about him, his books, his blog or his speaking availability are encouraged to visit his website.
Source: Jack Uldrich & The School of Unlearning
Share:
---
Categories: Alternative Energy, Architecture and Design, Construction, Energy
Tags: Architecture, Construction, Energy, Future Technology, Futurist, Hydroelectric, Jack Uldrich, Keynote, Trends
---