WeeTect Developed Both Co-Mold and Coating Photochromic Technology
Press Release
•
updated: Nov 17, 2016
WeeTect's new photochromic technology changes to different colors/tint depending on different photochromic ingredients.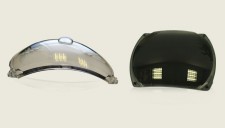 Shanghai, China, November 17, 2016 (Newswire.com) - ​​WeeTect today announced a new photochromic technology that changes to different colors/tint depending on different photochromic ingredients. This is an advanced technique that uses co-molding and coating photochromic technologies that may include other unique innovations such as anti-fog, hydrophobic and scratch resistant coatings.
"Our new photochromic technology aims to protect users from bright sunlight/ultraviolet radiation by tinting faster within the first few minutes," said Taylors Lei, WeeTect product manager. "This is a first class photochromic technology, which can be used alongside hydrophobic coating, anti-fog and anti-scratch coating has the best optical properties even in the devastating weather conditions."
Features of WeeTect Photochromic technology (WPT)
The company has adopted both co-mold and coating photochromic technologies for all its products.
Co-mold photochromic technology
WeeTect uses a high quality photochromic film or photochromic sheet. This process adopted by the company involves preforming the sheets and co-molding them together.
The final product has a photochromic substrate sandwiched between two layers of the lens. Co-molding helps prevent the degradation of photochromic ingredients.
Photochromic coating
The company has adopted special material to apply the photochromic coating on injection molded parts. This forms a permanent bonding with the surface, making a long-lasting and durable photochromic product.
Both the co-mold and coating photochromic technologies guarantee superior performance for all eye or face shields in any outdoor application.
Other coating technologies
For better optical properties, WeeTect Photochromic Technologies can be used alongside other coatings such as anti-fog, anti-scratch, iridium, hydrophobic, etc.
Therefore, the equipment or accessories with photochromic technology can be used in all environmental conditions. This is due to their ability to eliminate glare, fog and resist scratched.
Applications of photochromic
WeeTect photochromic technology is formulated for all products that are used in conditions where users are susceptible to ultraviolet radiation or excess sunlight radiation.
Currently, WeeTect has introduced: photochromic lenses, photochromic visors, photochromic face shield and photochromic goggles. They are designed for all outdoor activities such as biking, skiing, cycling, etc.
Availability of photochromic technology
The new product is available for OEM/ODM clients. These products include photochromic products that meet both standard and customization requirements.
All these are available to clients at affordable prices.
Customers can order for the new photochromic products from WeeTect main factory in China. WeeTect has also promised to introduce more user-specific photochromic products.
About WeeTect
WeeTect Material Limited is lens & visor manufacturer for OEM businesses. Since 1993, the company has invested in R&D, producing a range polycarbonate coating solutions. It has a line of products such as visors, photochromic lenses, face shields, welding helmets, mirrors and anti-fog solutions; with the most recent being the WeeTect Photochromic Lenses (WPL).
For more information:
Please visit www.weetect.com or Contact: sales@weetect.com
Source: WeeTect
Related Media
Related Files