WeatherPort Shelter Systems to Exhibit at NSAA National Convention
Press Release
•
May 12, 2016
WeatherPort Shelter Systems Will Feature Portable Fabric Structures At The National Ski Areas Association (NSAA) Convention and Tradeshow In Nashville, TN.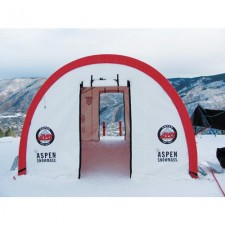 Nashville, TN, May 12, 2016 (Newswire.com) - Boston is known for its beans, Seattle for it's coffee, and Nashville for its…skiing? This year's National Ski Areas Association (NSAA) Convention and Trade show is being held in downtown Nashville, Tennessee. WeatherPort Shelter Systems (http://www.weatherport.com), a leading innovator and provider of portable fabric structures for outdoor use, will showcase durable, lightweight outdoor structures designed for winter climate conditions.
The four-day event is being held from May 18 to May 21, 2016 at the Omni Hotel in Nashville. The final day celebration will take place in the Rock and Roll Hall of Fame. WeatherPort will exhibit at the trade show, providing design, build, and customization information for their outdoor tension fabric structures to convention participants.
WeatherPort Shelter Systems will will present at the NSAA Convention and Trade Show in Nashville, Tennessee, showcasing durable, lightweight outdoor structures designed for winter climate conditions.

William, Hansen
Keynote speakers Ryan Estis and Polly LaBarre will headline the event. The two industry innovators will share insights on managing leadership change and how to rethink leadership skills required for success in the 21st century.
WeatherPort provides high quality outdoor fabric buildings designed for portability, easy installation, and minimal site preparation. The lightweight structures provide durability and versatility to the ski area industry.
The company's line of ski resort structures include:
· Warming huts
· Ski lodges
· Rental shops
· Starting gates
· Snow groomer garages
· Dining facilities
Additionally, the company can create custom-designed buildings for other uses.
About NSAA
The National Ski Areas Association (NSAA) (http://www.nsaa.org/) is the ski area owners and operators trade association. The organization represents more than 300 alpine resorts that account for more than 90 percent of national skier/snowboarder visits. More than 400 supplier members also provide equipment, goods and services to the mountain resort industry.
About WeatherPort
WeatherPort Shelter Systems has been creating rugged fabric buildings and tension fabric structures since 1968. The company creates fabric structure solutions for a wide range of applications and industries, including private, commercial, and governmental sectors. WeatherPort fabric buildings are used in every climate zone in the world.
Learn more about WeatherPort at www.weatherport.com or call 970-399-5909.
Source: WeatherPort Shelter Systems
Tags
Additional Links