WeatherPort Shelter Systems Presents at Colorado Athletics Directors Association (CADA)
Press Release
•
Apr 29, 2016
The Fabric Structure Company Will Present To Athletic Administrators From Across The State.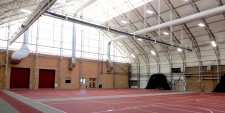 Breckenridge, Colorado, April 29, 2016 (Newswire.com) - WeatherPort Shelter Systems (http://www.weatherport.com/), a provider of fabric athletics facilities structures, will present at the 43rd annual 2016 Colorado Athletics Directors Association (CADA) Convention and Trade Show (http://www.coloradoad.org). The three-day event is the largest of the year for the organization, and will be held from April 30th to May 2nd at the Beaver Run Resort in Breckenridge, CO. WeatherPort will occupy booth number 43 at the event.
WeatherPort provides high quality tension fabric sports facilities designed for portability, easy installation, and minimal site preparation. The lightweight structures can be partitioned for storage, locker rooms, and many other uses. The multi-use options and portability make these fabric structures a popular and reliable choice for athletics departments and recreational facilities across Colorado.
WeatherPort Shelter Systems will present at the 43rd annual 2016 Colorado Athletics Directors Association (CADA) Convention and Trade Show.

William, Hansen
The company's vast inventory of pre-designed plans, and ability to create customized fabric buildings for indoor sport facilities has positioned them as a provider of choice for Colorado athletics departments. WeatherPort tension membrane structures are available in many sizes, from small storage facilities to fully functioning gymnasiums and riding arenas. Accommodations can include electrical hookups, HVAC systems, custom doors, windows, and vents. Additionally, logos and graphics can be printed on the fabric to showcase your organization.
About CADA
CADA is a statewide professional organization, administered by and for secondary school athletics administrators in order to improve and preserve educational aspects of interscholastic athletics in school curriculums, and to assist in the administration and support of athletic programs. CADA assists the CHSAA with the development of rules and regulations, and promotes a positive image for athletics and athletics administrators in Colorado.
About WeatherPort
WeatherPort began creating rugged fabric buildings and tension fabric structures in 1968. The company creates fabric structure solutions for a wide range of applications and industries, including private, commercial, and governmental sectors. WeatherPort structures are used in every climate zone in the world.
Learn more about the WeatherPort at http://www.weatherport.com/ or call 970-399-5909.​
Source: WeatherPort Shelter Systems
Tags
Additional Links