Washington Business Journal Lists Abiud Zerubabel, Chairman of Acumen Companies as 2018 40 Under 40 Honoree
Press Release
-
updated: May 18, 2018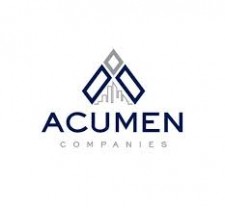 WASHINGTON, May 18, 2018 (Newswire.com) - Acumen Companies congratulates its Chairman, Abiud Zerubabel for being recognized by the Washington Business Journal as one of their 2018 40 under 40 honorees. This honor has been bestowed upon Abiud for outstanding achievement and entrepreneurial spirit at a young age.
Abiud's lengthy list of achievements, as well as his community service and philanthropic work, made him an easy choice out of a pool of over 450 nominees to represent this elite class of young entrepreneurs in the D.C area. In great company with other young leaders who refuse to let age be a factor in their business success, Abiud is proud to be inducted in the 2018 40 under 40 class.
About Abiud Zerubabel
As a serial entrepreneur, Abiud Zerubabel began his entrepreneurial career at the age of 17. While in college he began a property management company master leasing from landlords and subletting to students. The success of this business led him to his first million dollars in net revenue before the age of 21. While continuing to pursue his passion for real estate, he had to adjust when the real estate market softened during the recession. Abiud, quick on his feet and with the recession looming, launched a new venture providing technology services for Federal and local government, and nonprofit organizations. He was able to secure dozens of contracts in less than one year, later selling those contracts to major Federal Government Contractors at a record high multiple.
Abiud had no interest in stopping there. He launched his own real estate development company named Urban Investment Group in 2009. In 2013, Inc Magazine named Urban Investment group one of the five "Fastest Growing Real Estate Firms" and the number 4 "Fastest-Growing Companies led by African-Americans" nationwide.
After the realized success of Urban Investment Group, he then turned his focus to the launch of Acumen Capital. The focus of Acumen Capital is to offer institutional investors high-grade investment opportunity through a secured real estate portfolio without lock-ups. In 2015, Blackbusiness.org recognized Abiud for leading one of top 5 "Fastest-Growing Companies in America". A year later, Acumen Capital ranked number two on the Inc. 5000's list of the fastest growing companies in DC list.
Abiud has since went on to merge the successes of both Urban Investment Group and Acumen Capital with the creation of Acumen Companies. In 2016, Abiud took home the number 1 spot on Inc Magazine's "Fastest-Growing Companies led by African-Americans" nationwide. Under his leadership Acumen companies also placed 7th on Washington Business Journal's list of "50 Fastest Growing Companies in D.C" in 2017. Rightfully so, his consistent drive and desire to shake up the real estate market earned him the DC Chamber of Commerce "Young Entrepreneur of the Year" Award.
Abiud also serves as a guest lecturer for several real estate and entrepreneur classes in the D.C. area to help young entrepreneurs realize their dreams just as he has.
About Acumen Companies
Acumen Companies offers a first-of-its-kind, open-ended and multi-faceted fund offering institutional investors high-grade investment opportunity through a secured real estate portfolio with no lock-ups. Acumen primarily provides acquisition, development, and construction loans to experienced real estate investors and developers for value-adding and opportunistic projects in select sub-markets within the Washington, D.C. area. Although focused in D.C., Acumen maintains a national outlook as a private multi-integrated real estate services establishment.
It is Acumen's mission to provide unbeatable high-grade investment management, lending, development and construction services of real estate properties throughout the D.C. metro area. Acumen is firmly committed to enriching the communities in which we operate through by the advancement of affordable housing and top tier development while preserving existing communities. The synchronicity of the land acquired, capital deployed, hands-on management and entrepreneurial vision enables Acumen to transform innovative ideas into reality.
Source: Acumen Companies
Share:
---
Categories: Real Estate, Real Estate Investments
Tags: 40 under 40, Abiud Zerubabel, acumen, award, business, capital, dc, development, entrepreneur, investment, real estate, Washington Business Journal
---