DC Chamber of Commerce Names Abiud Zerubabel, Chairman of Acumen Companies, 2017 Young Entrepreneur of the Year
Press Release
-
updated: May 18, 2017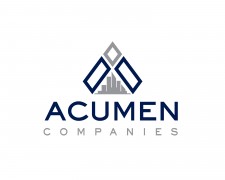 Washington, DC, May 18, 2017 (Newswire.com) - Acumen Companies congratulates Abiud Zerubabel for being an awardee of the DC Chamber of Commerce 2017 Young Entrepreneur of the Year Award for his innovative, entrepreneurial spirit and commitment to the District's business landscape.
On Tuesday, May 9, 2017, Abiud was recognized at the Chamber's Champions Small Business & Economic Development Summit and Awards Ceremony at the Walter E. Washington Convention Center.  
Vincent B. Orange, Sr., President and CEO of the DC Chamber of Commerce, has stated that the "awardees are a driving force in the evolving Washington, D.C., business community," and this is an undeniable truth for Abiud and the impact he has had in the local DC area.
ABOUT ABIUD ZERUBABEL
As a serial entrepreneur Abiud Zerubabel began his entrepreneurial career at the age of seventeen. While in college, he began a property management company, master leasing from landlords and subleasing to students. The success of this business led him to his first million dollars in revenue before the age of twenty-one.
In 2013, his development company, Urban Investment Group, was named one of the top five fastest-growing real estate firms in the country by Inc. Magazine on Inc. 5000's list. Over the past two years, he has developed more than $289MM in residential properties totaling over 500,000SF. Abiud continues to grow his real estate portfolio and recently celebrated 10 years of operation both in developing and managing commercial properties. In 2016, Abiud's latest venture Acumen Capital, ranked number two on Inc. 5000's fastest growing companies in DC. Earlier this year, Inc. Magazine once again named Abiud Chairman of Acumen Companies, first place in the top 10 fastest growing companies led by an African-American nationwide. Abiud has now taken the number one place from his previous number four place held in 2013, while he was CEO of Urban Investment Group.
ABOUT ACUMEN COMPANIES
Acumen Companies is a private multi-integrated real estate services firm. Acumen provides high-grade investment management, lending, development, and construction services of real estate properties throughout the greater Washington, D.C., area.

For more information, please contact Joelle Thomas at 202.536.2660, or visit www.acumencos.com.
Source: Acumen Companies
Share:
---
Categories: Real Estate, Real Estate Investments
Tags: acquisition, african american, construction, DC, development, investment, real estate
---